Transform Your Worlds!
International Day of InterPlay
Saturday, October 28, 2017


Live webcast connecting folks across the continent and beyond at 11 am California time (PDT), plus parties and events in several locations.
Watch at a local gathering or LOG INTO ZOOM from your own device!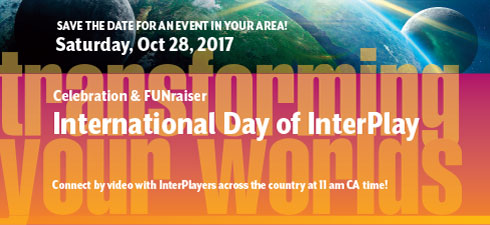 A celebration and fundraiser on behalf of InterPlay
Events will be happening this year all over the place! Check with your regional leaders to see what might be going on in your neighborhood, or sign in online yourself!
On Saturday, October 28, 2017, InterPlayers from around the world will gather in local groups to celebrate the way that InterPlay is transforming their lives and their worlds!. The groups will also be connecting at 11 am CA time (PDT) with each other online through the application "Zoom." Everyone will be able to witness the party and play at the same time.
We will lift up the amazing ways that InterPlay is embodying life, creativity, community, awareness and hope all over the place—across the US and in other parts of the world. We will honor wonderful leaders both in and around InterPlay communities with "Spirit of InterPlay" awards, hear inspiring stories, invite everyone to contribute and, of course, eat, drink and play. Each local event will have it's own schedule and we'll also connect online at 11 am CA time.
Events happening all over!
Watch for additions to this list.
Oakland, CA
Playing, celebration and free food.
10 am to 1:30 pm • Saturday, Oct. 28
InterPlayce
InterPlayce, 2273 Telegraph Avenue, Oakland, CA 94612
Online listing for this event...
Contact Cynthia Winton-Henry for more info.
Chicago, IL
12–2 pm • Saturday, Oct. 28
Agnotti's apartment
Food and living room dancing
Contact agnotti@interplay.org for details.
Minneapolis, MN
11 am – 3 pm • Saturday, Oct. 28
Springhouse
610 W. 28th Street
Minneapolis, MN 55400
Raleigh, NC
1–3 pm • Saturday, Oct. 28
Transitions Life Care
250 Hospice Circle
Raleigh, NC 27607
Atlanta, GA
Please RSVP to atlantainterplay@gmail.com
Dinner & Celebration
5–6:30 pm • Saturday, Oct. 28
Little 5 Points Community Center
1083 Austin Ave, 30307
"Honoring our Ancestors" Soulprint Players performance
7–8 pm • Saturday, Oct. 28
Findley Plaza
Little Five Points
Party, play, be inspired and support the InterPlay movement!
Washington, DC
Several viewing parties
Toronto, Ontario, Canada
TBA
Berlin, Germany
The space - Berlin
Besselstraße 1, 10969 Berlin, Deutschland