A series of workshops exploring the creative practice of InterPlay®
InterPlay: A Creative Practice For Our Times - March Series
An InterPlay Workshop Series in Edinburgh, Scotland, 6–11 March, 2012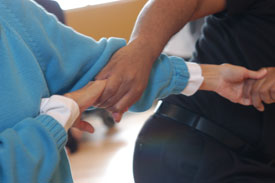 Edinburgh & Glasgow, Scotland, United Kingdom
Thursday through Sunday, March 6 - 11, 2012
You are invited to participate in a series of workshops exploring the creative practice of InterPlay® - a movement, storytelling, voice and community-building practice with a focus on ease, connection, reflection and play.
Download a pdf brochure with detailed descriptions of all of the workshops!
MARCH WORKSHOP SERIES
Tuesday, 6 March
Introducing InterPlay: A Creative Practice For Our Times
Same workshop, two separate times and locations!
• 10am–12pm (venue tbc)
• 5–6:30pm Pearce Institute, 840 Govan Road, Glasgow G51 3UU
Wednesday, 7 March
Introducing InterPlay: Ease Into Connection and Community
7–9pm St James's Church Hall, Rosefield Place, Portobello, Edinburgh EH15
Thursday, 8 March
InterPlay: Having Movement, Stillness and Contact
10am–12pm Gillis Centre, 100 Strathearn Road, Edinburgh EH9
InterPlay: Having Our Words and Our Voice
2–4pm Gillis Centre
Saturday, 10 March
InterPlay for Performance, Part 1: Embodied Expression for Storytelling & Presenting
10–1pm (venue tbc)
InterPlay for Performance, Part 2: Easing Into Performance
For those who wish to participate in the evening performance
2–5pm (venue tbc)
An Evening of Shared Storytelling and Movement
7–9pm (venue tbc) (InterPlay performance)
Sunday, 11 March
On Behalf of InterPlay: Celebration and Stillness
For participants of any of the week's workshops
1:30–4pm St James's Church Hall, Rosefield Place, Portobello, Edinburgh EH15
Download a pdf brochure with detailed descriptions of all of the workshops!

Cost:

1 workshop: £20/ 2 workshops: £35/ 3 workshops: £50/ 4 workshops: £65/ 5 workshops: £80/ Entire March series: £100/ Concessions available
Registration/Information:

To register: go to the website listed under venue. For more information: contact Mairi Campbell - email on website/07988 894 334.

Venue
Various venues
Edinburgh & Glasgow, Scotland,
Please note that the March, April & May series of events in Scotland will be held at various locations. Check individual listings for exact location.
Leaders
Caroline Kisiel
Caroline Kisiel is a Certified InterPlay Leader and an Assistant Professor in DePaul University's School for New Learning, where she guides adult students in the arenas of creativity, travel and values, writing, research, and study abroad opportunities. For 15+ years she has been an InterPlay practitioner as well as an educator in the training and development field, specializing in applying principles of creativity and InterPlay to workplace relationships and culture, diversity concerns, teambuilding, leadership, organizational change, and presentation skills, in both onsite and online settings. While living in the UK from 2003-2008 she facilitated an ongoing InterPlay workshop for graduate students, she served as the Regional Contact from 2003-2013, and she offers InterPlay workshops in a variety of settings in the UK when she travels there. Caroline has done master's work in interdisciplinary arts, humanities and cultural studies, and PhD work in travel literature. She is interested in how InterPlay can create more easy focus in academia, and loves how the magic of InterPlay can help others to unlock their own stories and make connections – both live and online – with contact and ease.