a small group explore...
Emerging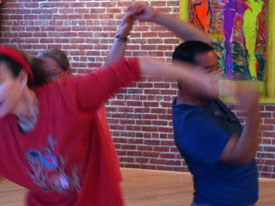 Sunderland, MA
Saturday, May 12, 10am - 3pm
Join us for some extravagant play as we move, shake, sound and find - in a wooded setting in Western Massachusetts. What does Spring offer us? are we ready? what do we need to Spring forth or slowly unfurl? We'll include On Behalf Of Dances for loved ones gone. Delve into advanced InterPlay forms and our body selves in community. Space is limited - let us know soon of your interest.
Cost:

$25-50, sliding scale, or make your ablest Love Donation.
Registration/Information:

CC KIng at ccking.interplay@gmail.com

Leaders

CC King

CC King is a certified InterPlay Leader and trainer, Boston-area coordinator and a memory play specialist. She has been practicing the joyous unfolding of Interplay for over 15 years. Play with elders and Memory Cafes are a special interest. CC is an expressive therapist, visual artist, teacher and community activist. As the co-founder of a local arts and environment program, she facilitates workshops in organic sculpture and organizes public performance. Her background includes nonprofit management, art and family therapy, trauma-informed InterPlay and a life-long commitment to finding sustenance, creative activism, and joy in the natural world.

Lisa Laing

Lisa Laing is a Certified InterPlay Leader, Modern Dancer, Certified Fitness Professional and Certified Cancer Exercise Specialist . Lisa incorporates the practices and forms of InterPlay in each of these aspects of her career. She has brought InterPlay to incarcerated women at York Correction Facility in CT, students at The Juilliard School, Yale Divinity School and to many spiritual groups as well as to elementary school aged children. It continues to be a privilege to co-lead a Cancer Wellness Group (Hope is Power), very much informed by InterPlay practices. Lisa is one of the Northeast Regional InterPay Leaders (as well as a Regional event coordinator) and has co-lead the InterPlay Life Practice Program and Secrets of InterPlay in the northeast with both Katrina Browne and CC King. "I am blessed to be a part of this world-wide community of creators, instigators, healers, nurturers, adventurers, huggers, grace-operatives, activists, artists; InterPlayers All!"