4 days of deep play and leadership wisdom
InterPlay Leaders Gathering 2018
Open to all Life Practice and Leader Training participants and grads
Phil Porter
and
Cynthia Winton-Henry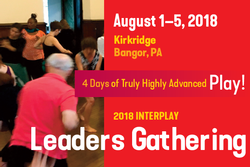 Bangor, PA
Aug 1-5, 2018 • Wednesday dinner–Sunday lunch (Board meeting July 30-Aug 1, beginning with dinner on Monday)
Come for deep and satisfying play with Cynthia and Phil and others with years of InterPlay experience. The wisdom in the InterPlay community of leaders is deep.
Bring your own ideas for workshops to be set up on the spot. Have a chance to organize conversations with other leaders about InterPlay issues that move you. Get new skills for education, spirituality, racial equity and transformation, art-making and leading your life. Discover new forms! Get met in your glory, humanity, artistry, and body wisdom.
Lots of opportunities to play, create, perform, connect, converse, eat and relax. And laugh!
This event is open to all Life Practice Program and Leader Training Program grads as well as those currently taking part in either program (or who took part in earlier versions of either program.)
Charming and comfortable rooms and three meals a day that you don't have to cook.
This year, we will be in a new east coast location—Kirkridge—a beautiful spot in Pennsylvania. We will be doing some transportation coordination to get to the center from a nearby airport. Newark is probably the best airport to fly into.
Register early and save!
Special discount! Register by June 29 and get $70 off!
Tuition: $390 by June 29/$460 after June 29
Room and Board: $500/double (per person), $600/single
A nonrefundable $100 deposit or first monthly installment is required to register.
Leaders of Color Pre-Leaders Convening
Wednesday, August 1, 2018 • 12–6 pm
This convening for Leaders of Color is an opportunity to reconnect and bond prior to the official start of the Leaders Gathering. A great deal of momentum has gathered among InterPlay Leaders of Color since the 2017 gathering through the launch of the Insight Group, and the Co-Liaisons to Leaders/People of Color's efforts. The time together prior to the start of the leaders gathering will be an opportunity to reground as a group body of LOC. Lunch will be served. Scholarships are available for the Leaders Gathering which will begin that Wednesday evening.
Special Payment Plans
Payment plans available: 6 monthly payments or 8 payments by credit card. A 5% processing fee is included. A payment plan must be in place no later than the end of July.
For Body Wisdom Board members who will be attending the Board meeting before the gathering, room and board is $650 for a double, $750 for a single. Payment plans also available. The Board meeting begins with 6 pm dinner on Monday, July 30.
Important Travel Information
Kirkridge Retreat Center is approximately 45 minutes from Lehigh Valley Airport (ABE) and 90 minutes from Newark Airport (EWR). While there are no local InterPlayers to offer rides to and from the airports, there may be InterPlayers traveling from further away with room in their cars. There is also the option of renting a car, or J&J Transportation offers car service from both airports to Kirkridge (one-way $117-$270, including gratuity, 2-9 passengers). Click here for more information on J&J Transpo and to request a quote. Information on how to connect with other InterPlayers to share a ride will be sent by May 18 to everyone who has registered.
Cost:

Tuition and room & board costs above
Registration/Information:

Call the Body Wisdom Office at 510/465-2797 to register, or contact info@interplay.org

Venue
Kirkridge
2495 Fox Gap Road
Bangor, PA 18013
Kirkridge is a retreat center located on a ridge of the beautiful Kittatinny Ridge of Northeast Pennsylvania, overlooking the Delaware Valley. For the past 75 years, they have served a wide community of people of good faith, no faith, and interfaith – and providing safe harbor to all.
Leaders
Phil Porter
Phil is one of the founders of InterPlay. He is a teacher, performer, writer, and organizer. With Cynthia Winton-Henry he is the co-founder of WING IT! Performance Ensemble, and has written several books, some in collaboration with Cynthia, including Having It All: Body, Mind, Heart & Spirit Together Again at Last and The Slightly Mad Rantings of a Body Intellectual Part One. Phil is particularly interested in the use of InterPlay in organizational life, and believes that InterPlay can be a powerful tool to create communities of diversity and peace.
Cynthia Winton-Henry
Cynthia Winton-Henry, co-founder of InterPlay with Phil Porter, has researched "what the body wants" in the arts, in jails, shelters, slums, hospitals, churches, businesses, classrooms, doctoral programs in theology and the arts, and in multicultural education. She develops somatic curriculums to address racism, leadership for the Earth, and spiritual intelligence with an eye to supporting millennials. A featured speaker on the Body Intelligence Summit and a keynoter at conferences, Cynthia is the author of What the Body Wants, Having It All: Body, Mind, Heart & Spirit Together Again at Last, Dance: A Sacred Art: Discovering the Joy of Movement as Spiritual Practice, and Chasing the Dance of Life: A Faith Journey,. Currently writing on Body Wisdom and Social Justice and on "Ensoulment," she coaches leaders seeking spiritual intelligence for our time at cynthiawinton-henry.com.