Shift your being 'til it feels GOOD!
InterPlay Play Group * New Home...Eastwood Christian Church
Summer Sundays....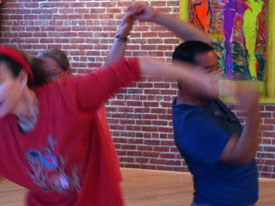 Nashville, TN
SUNDAYS: 2 HOURS Starting on June 29
Playgroup, gentle, fun, playful community play!!
Cost:

$20 donation
Registration/Information:

jori martinez-woods

Venue
Eastwood Christian Church
1601 Eastland
Nashville, TN 37206
Leaders
Jori Martinez-Woods
In 2006, Jori Martinez-Woods found her InterPlay TRIBE! She has shared InterPlay in Early Childhood settings, in weekly body spirit celebrations and has lead playgroups ever since! She bacame a certified leader in 2010! Jori has a passion for introducing InterPlay not only to educators world-wide but to anyone who 'wants' it. She is committed to building and crafting this work with other inspired InterPlayers! Jori sits on the National Board of Body Wisdom and is a member of the FRIENDRAISING committe. She currently is a Literacy Coach Mentor for Vanderbilt University. Jori received her M.Ed in '88 from Harvard Graduate School of Education in Teaching, Curriculum and Learning Environments. She also is a certified Montessori Directress for ages 6-12. She has lived and studied in Japan, England, Spain and has accompanied Masankho Banda to his home in Malawi. She loves to dance, bead and build community!!!