De-stress,Refresh and Connect in Evanston
Regularly Scheduled Evanston Sessions Are on Hold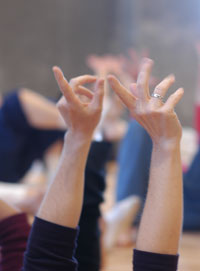 Evanston, IL
Regularly Scheduled Evanston Sessions Are on Hold
All are welcome at InterPlay on Tuesday nights in Evanston. InterPlay is an easy to learn creative process that invites participants to express themselves through storytelling, movement and vocalization. Through well-established methods of play participants can simply have fun and discover new things. No prior InterPlay experience is necessary.
A wide variety of people participate in InterPlay worldwide. Whether you think of yourself as less creative or more creative, chances are you'll discover through InterPlay that you are more creative than you think. InterPlay instructors strive to meet people where they are at. When you're at an InterPlay event, you can choose your own level of participation, including simply observing the class.
You can learn more about this event and InterPlay in general at these sites:
www.meetup.com/ChicagoInterPlay
The Tuesday night class time is from 7:30-9:00pm. Doors open at 7:15 pm for registration and meeting other participants. The current class fee is on a sliding scale of $5 to $15 (you decide what to give). This event repeats every 2nd and 4th Tuesday of the month (Before attending, please check the scheduled dates in this event description or the event listings on the Meetup page). First time participants are welcome to attend on any date.
We hope you can come out and enjoy an evening of play, fun and mindfulness! If you are curious about InterPlay and are hesitant about diving right in, remember you can also just come and observe. If you come to observe and decide that you want to participate, you can do that too. Feel free to invite friends and to forward this information to anyone who you think may be interested.
The instructor is Jeff Breting, Jeff brings several hundreds of hours of InterPlay experience into the community space. You can learn more about Jeff at his leaders' profile:
You'll be happy you decided to attend!
See you soon!
Playfully,
Jeff Breting
Cost:

$7 with a Sliding Scale of $5-$10
Registration/Information:
Venue
St. Mark's Episcopal Church
1509 Ridge Ave
Evanston, IL 60201
Limited parking available at the front and rear of the building. Ample street parking within 1-2 blocks of the venue.
Leaders
Jeff Breting
Jeff Breting got hooked on InterPlay in early 2010 when he attended a retreat in North Carolina.
Soon afterward that first retreat he took the InterPlay Life Practice Program in Minneapolis with InterPlay master teacher CathyAnn Beaty. After completing the five weekend retreats of the Life Practice Program, he has played at several InterPlay retreats throughout the country.
Jeff was also fortunate to have a 6-week immersion at the InterPlay headquarters in California. While he was there, he received instruction from InterPlay co-founders Phil Porter and Cynthia-Winton Henry and from many other highly trained instructors.
Jeff has been a regular participant of ongoing events in his home Chicago Interplay community. He keeps coming back because he finds InterPlay to be a lot of fun. He also enjoys how it enables him to discover and develop his own voice (in the big sense of the word). In addition, he is fascinated by how it opens up many avenues for people to connect with one another.
To give back, he decided that he wanted to become a Certified InterPlay leader in order to lead public InterPlay sessions. As of Summer 2015, Jeff has attained his leader certification and has co-led and led 50 public InterPlay sessions in the Chicago area.
In his leading, Jeff desires to bring the collective wisdom of all his instructors to session participants. Jeff also wants to help people of all backgrounds broaden the ways they express themselves, create more ease in their lives and learn new ways of being in relationship with others.
Jeff has a keen interest in the application of InterPlay to interpersonal, small group, and organizational communication. He is also very interested in sharing InterPlay with people who are seeking experiences and tools for releasing excess energy, reducing anxious feelings and becoming more assertive.