The Secrets of Leading InterPlay in Seattle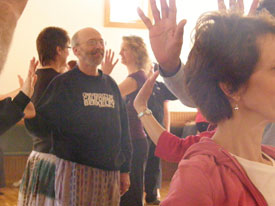 Seattle, WA
Friday, October 6th-- 9:30 am to 6:00 pm, Saturday, Oct 7--9:30 am to 6:00 pm, and Sunday, Oct 8--1:30 pm to 4:30 pm
Secrets of Leading is a multi-day workshop that covers the underlying structure and philosophy behind the InterPlay® system.
How are the forms structured? How do they work together? What is the ultimate outcome or effect of using InterPlay forms? How do you figure out which forms to do at what time? What is the nature of the relationship between leader and participant? How do you deal with people you find challenging?
The workshop includes presentation, interaction, and play. "Secrets of Leading InterPlay®" is only offered a few times a year in various locations around the country.
The Secrets of Leading InterPlay is a core element of the InterPlay Leader Training Program. It is open to those who have completed or are in the process of completing the InterPlay Life Practice Program and have enrolled in the InterPlay Leader Training Program.
Cost:

$350 ($300 if you have previously taken the workshop)
Registration/Information:

info@interplay.org or call 510/465-2797

Venue
Queen Anne Christian Church
1316 3rd Ave W & W Lee St
Seattle, WA 98119
Neighborhood parking. Along 3rd Ave W there is a single door entrance with a stained glass window beside it. Come in that door and go up the stairs and through the double doors to the Fellowship Hall. Wear layers!
Leaders
Phil Porter
Phil is one of the founders of InterPlay. He is a teacher, performer, writer, and organizer. With Cynthia Winton-Henry he is the co-founder of WING IT! Performance Ensemble, and has written several books, some in collaboration with Cynthia, including Having It All: Body, Mind, Heart & Spirit Together Again at Last and The Slightly Mad Rantings of a Body Intellectual Part One. Phil is particularly interested in the use of InterPlay in organizational life, and believes that InterPlay can be a powerful tool to create communities of diversity and peace.