Put more play in your life!
InterPlay Life Practice Program, Durham, NC
Terry McCarthy
and
Laurece West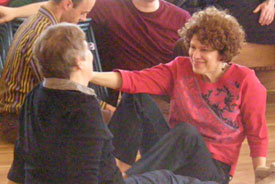 Durham, NC
Nov 11, Dec 9, 2017; Jan 13, Feb 10, March 10, April 21, May 12, June 9, 2018 9:30 am - 4:30 pm each day.
Unlock the wisdom of your body!
*Have more fun
*Decrease stress, increase ease
*Make wiser, more grounded decisions
*Thrive by integrating body, mind, heart, & spirit
*Find easy ways to make the changes you desire—in your relationships, work, community, home, spirit, body image
*Discover your hidden resources
The Life Practice Program is an active, creative way to change your life and change your world. Immerse yourself in the system of InterPlay—ideas and practices that can move you from where you are to where you want to be.
During the Life Practice Program you will meet over 9 months with a group of fellow InterPlayers. You may use this supportive, affirming community to help you shape your life in ways that are best for you. You will get individual attention from the program leaders, who will help support you in achieving your personal desires and intentions.
Although some previous experience with InterPlay is encouraged, there are no prerequisites for taking part in the Life Practice Program.
The Life Practice Program includes the Secrets of InterPlay led by Laurece and Terry, September, 2018. If you have taken Secrets already, your Secrets tuition will be applied to your Life Practice Program tuition. If you haven't taken it yet, it is included in your tuition and you may take it at any time. (If you can't make the Sept. dates, Secrets may also be taken after the Life Practice Program.)
For more information about the program, download a general brochure about the program, or contact Terry McCarthy or Laurece West.
trong>October 28, 2017.
Cost:

$2150 / $900 to repeat (includes Secrets of InterPlay); $50 Space Rental Fee (add $40 for Secrets)
Registration/Information:

Body Wisdom (510) 465-2797 info@interplay.org. Terry McCarthy (919) 265-4107 temccarthy@hotmail.com, Laurece West (919) 383-4876 laurecewest@gmail.com

Venue
Health Touch Conference Center
3500 Westgate Dr
Durham, NC 27707
Leaders
Terry McCarthy
Terry McCarthy is a teacher, performing artist and InterPlay leader with a day job at a computer company. He is a founding member of Off the Deep End Ensemble and former director of Inner Voices vocal ensemble. Terry is a former elementary school teacher with a BS degree in Arts for Children with Music Emphasis. He teaches InterPlay performance, storytelling and writing classes. Terry serves as a bodyspirit mentor with the Raleigh InterPlay Life Practice Program.
Laurece West
Laurece West is a Voice and Performance Coach, Recording Artist and InterPlay Leader. She is married to Terry McCarthy and together they lead the InterPlay Life Practice Program and direct the InterPlay performance troupe Impromptu Players in Durham, NC. Impromptu Players is primarily a service organization performing in Ronald McDonald Houses, children and adolescent hospital psych wards, convalescent centers, and libraries, with one public performance a season. Through her work with vocalists Laurece has cataloged the benefits of InterPlay for performers and presenters. These findings apply to everyone! Read more about the results of practicing InterPlay on the Session Structure page at www.laureceweststudios.com.
here