Fun as a spiritual practice
Come play with us!
Portland Plays
Hilary Martin Himan
,
Laura Play
,
Marci Rau
, and
Cassandra Sagan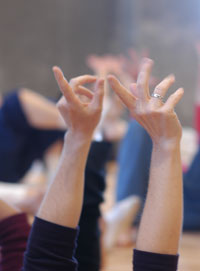 Portland, OR
Third Wednesdays
Engage your creative self…tell a 30 second story. Find your voice. Play at the speed of the body. Dance on behalf of the Ocean. Sing in gibberish. Tell a 30 second story without words. Make a face, make a sound. Shake it out. Dream on your feet. Take a deep breath, and let it out with a sigh.
Cost:

$8-$15 slide
Registration/Information:

cassandra@ukemama.com or hmhiman@gmail.com

Venue
Studio Beit Zusha
Portland, OR
Leaders
Cassandra Sagan
Cassandra Sagan is a Maggid, Jewish storyteller/teacher/preacher, and a designated Leitz Kadosh, Holy Clown. She is a poet, singer/songwriter, performer, and InterPlay Leader who has worked with adults and children for over 25 years helping them to access their full creative brilliance.