Learn great secrets about improvisational performance
InterPlay Performance Untensive
Learn from InterPlay co-founder Phil Porter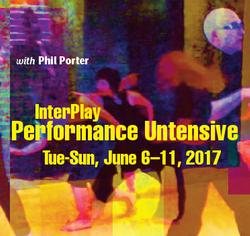 Oakland, CA
June 6–11, 2017 • Tuesday 7 pm – Sunday noon
Join InterPlay co-founder Phil Porter for a deep dive into the improvisational art-making methods of InterPlay in this Performance Untensive. Creating movement, stories and sounds on the spot is thrilling and revelatory. How amazing is it that with just a bit of structure and some simple practices we can discover all sorts of stuff that wants to take shape in the world, both individually and as a group.
Over the course of this multiple-day event, you will have a chance to explore your own creativity, learn new techniques and tricks to expand your range, get support and affirmation for your own unique style of creating and have the luxurious opportunity to play, play, play.
On Saturday night, the group will present an informal performance in the InterPlayce studio open to the public and have a chance to reflect on that experience on Sunday morning.
No previous performance experience is necessary, but come with a willingness to take on some new challenges in an encouraging environment. Perhaps you don't see yourself on stage, but are interested in the techniques of improvisation for your own benefit. If you have an InterPlay performance-style company or have thought about starting one, this untensive can provide some great ideas about how to make it all happen.
With Cynthia Winton-Henry, Phil co-founded WING IT! Performance Ensemble, which recently celebrated its 25th year. He has performed lots and lots of improvisation over the past years. He is exquisitely interested in the craft of InterPlay performance and believes that as we expand our improvisational range we get access to whole new territories of personal and community information.
Schedule
Tuesday 7–9 pm
Wednesday–Friday 9 am–4 pm
Saturday 9 am–3 pm, 6–9 pm (performance 7:30–9 pm)
Sunday 10 am–noon
This is a non-residential retreat. We can provide a list of some housing options. Meals in the neighborhood or bring your own food.
Cost:

$395
Registration/Information:

To register or for more information call 510/465-2797

Venue
InterPlayce
2273 Telegraph Avenue (at 23rd St.)
Oakland, CA 94612
InterPlayce is the center of the InterPlay universe. The offices for Body Wisdom, Inc. are also located here. The building is at the corner of 23rd and Telegraph, one block north of West Grand. It is just a few blocks from the 19th Street Downtown Oakland BART station, and on several convenient bus lines. On-street parking is always available at night and metered during the day. It is also easily accessible by several of the major freeways.
Click here for a map.
Leaders
Phil Porter
Phil is one of the founders of InterPlay. He is a teacher, performer, writer, and organizer. With Cynthia Winton-Henry he is the co-founder of WING IT! Performance Ensemble, and has written several books, some in collaboration with Cynthia, including Having It All: Body, Mind, Heart & Spirit Together Again at Last and The Slightly Mad Rantings of a Body Intellectual Part One. Phil is particularly interested in the use of InterPlay in organizational life, and believes that InterPlay can be a powerful tool to create communities of diversity and peace.