Refresh your Body Mind and Spirit
Playing for Vitality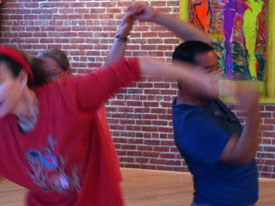 Clinton, WA
Wednesdays: May 4th, June 15th, July 6th
This is a drop in group open to anyone.
No Prerequisites.
Come experience the energetic lift one experiences when doing something new in the spirit of play.
Cost:

$10, no one turned away for lack of funds.
Registration/Information:

TraceyJoy Miller (360)941-8231 or traceyjoy.miller@gmail.com

Venue
Marsh House at Aldermarsh
6436 Maxwelton
Clinton, WA 98236
From the Parking Lot follow the path under the Prayer Flags. A brief walk through the woods and over the board walk to the meadow where you will find the Marsh House.
Leaders
TraceyJoy Miller
TraceyJoy
was first drawn into InterPlay in 1999 by the playful encouragement of the InterPlay community in the Twin Cities. Initially, InterPlay was an opportunity to have more dance and contact with others (even though she wasn't a "dancer"). Over time, InterPlay became a container where she had the opportunity to show up "as is" and play with her own creative expression and the content of her life, while being witnessed and affirmed by others. InterPlay allowed her to step beyond the limits of who she knew herself to be. She became more playful in relationships and more resilient in challenging situations.
For the last four years she has lived in a shared household on SkyRoot farm, Whidbey Island. Much like InterPlay, the SkyRoot household has affirmed her value and gifts in community. It is her passion to create environments where play, reflection, creative expression, insight and growth are likely to emerge. She is committed to being an agent of affirmation and encouragement for authentic expression.