Playing with the same group over time.
Body Wisdom for Life!
Dive Deep and Rise High to Your Full Potential!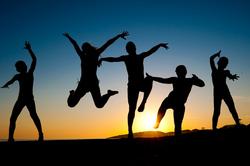 Seattle, WA
Monthly beginning Sunday, January 15th.
This unique offering will allow you to…
Be part of a closed group where relationships build over time. Co-creating and witnessing one another strengthens our creativity, risk taking and celebration in community.
Your desires and needs determine the forms and content for each session.
Emphasis on playing with InterPlay forms creates an environment where fresh insight and breakthroughs happen.
When you are stuck, use InterPlay forms to breakthrough to what you want.
Play deeper into your unique creative expression as the group body holds you.


Meeting Monthly from 2:00pm - 5:30pm:


Sunday, January 15th
Sunday, March 5th
Sunday, April 23rd
Sunday, May 21st
Sunday, June 4th
Cost:

$300 if paid by January 8th, 2017
$350 if paid by January 15th, 2017.
Registration/Information:

Limited to 12 participants. Contact TraceyJoy to register: traceyjoy.miller@gmail.com or 360-941-8231

Venue
Queen Anne Christian Church
1316 3rd Ave W & W Lee St
Seattle, WA 98119
Neighborhood parking. Along 3rd Ave W there is a single door entrance with a stained glass window beside it. Come in that door and go up the stairs and through the double doors to the Fellowship Hall. Wear layers!
Leaders
TraceyJoy Miller
TraceyJoy
was first drawn into InterPlay in 1999 by the playful encouragement of the InterPlay community in the Twin Cities. Initially, InterPlay was an opportunity to have more dance and contact with others (even though she wasn't a "dancer"). Over time, InterPlay became a container where she had the opportunity to show up "as is" and play with her own creative expression and the content of her life, while being witnessed and affirmed by others. InterPlay allowed her to step beyond the limits of who she knew herself to be. She became more playful in relationships and more resilient in challenging situations.
For the last four years she has lived in a shared household on SkyRoot farm, Whidbey Island. Much like InterPlay, the SkyRoot household has affirmed her value and gifts in community. It is her passion to create environments where play, reflection, creative expression, insight and growth are likely to emerge. She is committed to being an agent of affirmation and encouragement for authentic expression.