Honor Death at the Sacred Center of Life
The Dying to Live Tour and Cabaret
Come engage family and friends around the biggest dance you'll do: Live and Die.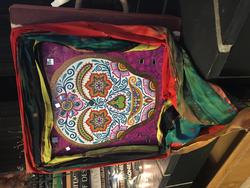 Raleigh, NC
October 13-14, 7:30 PM Friday – 5:00 PM Sunday
Pilgrim United Church of Christ>
Durham, NC 27707
Are you wondering about conscious dying, seeking peace in the midst of change, someone who doesn't plan on living forever? Rev. Stephen Winton-Henry, hospice chaplain and grief educator, and Cynthia Winton-Henry, cofounder of InterPlay are dying to live. With decades of helping people get into and out of their bodies, in the Dying to Live Tour and Cabaret, they honor the lessons and questions of community around the biggest dance we do: Live and die. Through reflection, music, stories, and movement, we'll toast one another, write our names in the book of life, and touch on:
• Death's role at the sacred center of life
* Death is not a solo dance
* The need for a herd of angels for living and dying
* The holy obligation to die wise.
• and more…all with playful, creative reverence.
Schedule
Friday 7:30 – 9:30 PM The Dance of Death
Saturday 10:00 AM – 9:30 PM The Poetry of Life, The Art of Legacy, Community Cabaret
Sunday 2:00 – 5:00 PM The Song of the Soul
Cost 200. Spaces are limited! Register early. Scholarship assistance is available. Contact info@interplaync.org for scholarship requests
Register here
Stephen Winton-Henry
served as a hospice chaplain, spiritual care manager, pastor, and grief educator since the 1970's. Losing a parent at a young age initiated him in the need for spiritual companionship through life. He is a graduate from Foothill Theater Conservatory, an InterPlay leader, avid reader and amateur ukulele and guitar player who loves to hang out and play.
Cynthia Winton-Henry,
cofounder of InterPlay, host the Hidden Monastery, a virtual community of prayerful mystics and artists. She's taught at Pacific School of Religion and produced The Unbelievable Beauty of Being Human concert worldwide. Her projects include Changing the Race Dance Workshops and Art and Social Change for millennials. Her books include Move: What the Body Wants, Dance: the Sacred Art, and Chasing the Dance of Life.
Cost:

tuition,
Registration/Information:

See InterPlay North Carolina Website

Leaders

Cynthia Winton-Henry

Cynthia Winton-Henry, co-founder of InterPlay with Phil Porter, has researched "what the body wants" in the arts, in jails, shelters, slums, hospitals, churches, businesses, classrooms, doctoral programs in theology and the arts, and in multicultural education. She develops somatic curriculums to address racism, leadership for the Earth, and spiritual intelligence with an eye to supporting millennials. A featured speaker on the Body Intelligence Summit and a keynoter at conferences, Cynthia is the author of What the Body Wants, Having It All: Body, Mind, Heart & Spirit Together Again at Last, Dance: A Sacred Art: Discovering the Joy of Movement as Spiritual Practice, and Chasing the Dance of Life: A Faith Journey,. Currently writing on Body Wisdom and Social Justice and on "Ensoulment," she coaches leaders seeking spiritual intelligence for our time at cynthiawinton-henry.com.