How to change the world!
InterPlay, Politics & Change
From individual belief to systemic change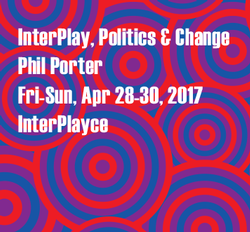 Oakland, CA
Fri–Sun, Apr 28–30, 2017 • 6:45 pm Friday to 4 pm Sunday
We're all going a little crazy politics-wise, right?
Well, let's get together and play with this in a whole new way!
InterPlay co-founder Phil Porter will lead a weekend workshop on Friday-Sunday, April 28-30, 2017 to explore how an arts-based practice like InterPlay can provide a body-wise way to change ourselves, our communities, our systems and our world.
Change can happen at many levels—personal, communal, political, mystical. Getting clear is a helpful part of the process. And if we want bigger change, the ability to "get on the same page" with larger groups of people is important.
In the workshop, Phil will share some of his own tools for understanding how change works, especially in the current political landscape. We will use the word "politics" broadly. You will also have a chance to explore your own body wisdom around these subjects as well and notice how the practices of InterPlay let us live directly into a different way of being in community. We will include all parts of ourselves—body, mind, heart & spirit.
Then, as an experiment, the group will try to move to collective agreement about an issue to focus on and to discern practices, ideas and actions that might advance that issue.
This workshop will be led from a progressive point of view, but hopefully with room for a range of opinions and beliefs. It will also include an examination of both the strengths and challenges of progressive thinking and strategy.
No InterPlay experience is required, but willingness to engage—to be both forthright and self-reflective—will be helpful.
Cost:

$180/scholarships available
Registration/Information:

Register online above or call 510/465-2797

Venue
InterPlayce
2273 Telegraph Avenue (at 23rd St.)
Oakland, CA 94612
InterPlayce is the center of the InterPlay universe. The offices for Body Wisdom, Inc. are also located here. The building is at the corner of 23rd and Telegraph, one block north of West Grand. It is just a few blocks from the 19th Street Downtown Oakland BART station, and on several convenient bus lines. On-street parking is always available at night and metered during the day. It is also easily accessible by several of the major freeways.
Click here for a map.
Leaders
Phil Porter
Phil is one of the founders of InterPlay. He is a teacher, performer, writer, and organizer. With Cynthia Winton-Henry he is the co-founder of WING IT! Performance Ensemble, and has written several books, some in collaboration with Cynthia, including Having It All: Body, Mind, Heart & Spirit Together Again at Last and The Slightly Mad Rantings of a Body Intellectual Part One. Phil is particularly interested in the use of InterPlay in organizational life, and believes that InterPlay can be a powerful tool to create communities of diversity and peace.