InterPlay Gathering in New England
CPR for the Soul!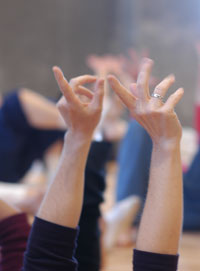 Milton, MA
Saturday, October 21, 9:30am to 4pm
Feeling unnerved by the rapid changes in society and the pace of our lives? Seeking fresh ways to find your groove or ground your days? Interplay may be just the thing. Combining story-telling, simple observation and embodied creativity, Interplay inspires new insights, fresh outlooks and shared truths. Interplay offers the opportunity to experience the richness of community and one's own agency within it. Come ready to move and play. All bodies are welcome. All abilities embraced. Saturday, March 25: 9am to 12:00 pm Deep Dive Interplay for people who have at least attended a Life Practice program 1:00pm - 4:00 pm Open Play for people of any and all experience. Newcomers welcome!
Cost:

$10-35, sliding scale; don't let funding concerns keep you away!
Registration/Information:

CC King ccking.interplay@gmail.com

Venue
First Parish Milton
535 Canton Avenue
Milton, MA 02186
Leaders
CC King
CC King is a certified InterPlay Leader and trainer, Boston-area coordinator and a memory play specialist. She has been practicing the joyous unfolding of Interplay for over 15 years. Play with elders and Memory Cafes are a special interest. CC is an expressive therapist, visual artist, teacher and community activist. As the co-founder of a local arts and environment program, she facilitates workshops in organic sculpture and organizes public performance. Her background includes nonprofit management, art and family therapy, trauma-informed InterPlay and a life-long commitment to finding sustenance, creative activism, and joy in the natural world.