Weekend Retreat and Village Convening
Earth-Body Wisdom InterPlay Convergence
Resilience Practices for a Culture of Embodied Resistance and Lively Emergence
Laurie Adams
,
Nika Quirk
, and
Cynthia Winton-Henry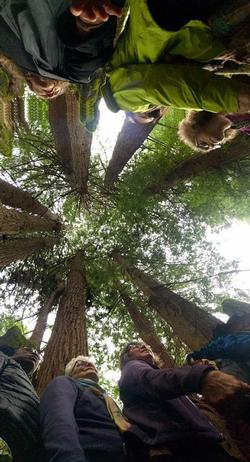 Philo, CA
July 21-23, 2017
Conveners Laurie Adams and Nika Quirk and Co-Inspirator Cynthia Winton-Henry invite earth-body wise InterPlayers to help catalyze and cultivate the seeds of Earth Wisdom in each and all of us. As an act of resistance to dis-ease we'll play with living into the beautiful world we know is possible.
Why? To activate hope, Strengthen resilience, Deepen InterPlay village relationships, And Create shared stories in these real and mythic times.
What? Sit, breathe, rest, stand up, root down, swing, create ceremony, swim and walk the river, sing, feast, share new forms inspired by being earth bodies together on the land.
Join us on behalf of our world!
" Can we claim any wisdom if we aren't earthed, aren't beloved of the Earth, celebrating and beholding to her in every single breath? That being said, it's in play and ritual that Earth teaches and makes art out of us all. Our villages are her canvas." Cynthia Winton-Henry, InterPlay cofounder
It's time!
The earth dream is moving us. Time to rise as her villagers!
Click here for
Earth-Body Wisdom InterPlay Convergence registration form
Cost:
Registration/Information:

Questions? Contact Laurie or Nika at info@riversbendretreat.org or 707-895-3990

Venue
River's Bend Retreat Center
18450 Ray's Road
Philo, CA 95466
River's Bend Retreat Center is a beautiful, nurturing space for contemplation, ecological understanding and deep connection between land and people. It is located about 3 hours north of San Francisco near the town of Philo. It is nestled in the redwoods and is about 30 minutes from the Pacific Ocean.
Leaders
Nika Quirk
Nika Quirk, M.B.A. (aka Quirky Auntie) coaches everyday leaders and teams to be vitally present, emotionally intelligent, whole-brained, and effective in action in life & work. Leading and living in times of change is tough work, and too often we try to do it alone. Everyone deserves great coaching & mentoring!

Nika has been practicing InterPlay for more than 15 years and is a Certified Leader of InterPlay. She also is a Certified FEBI Consultant through Focus Leadership (www.focusleadership.com). The Focus Energy Balance Indicator (FEBI) is an instrument developed by Ginny Whitelaw, Ph.D. that builds off the Coordination Pattern work of movement researcher, Betsy Wetzig, which has long been incorporated in InterPlay.

As a facilitator, coach, consultant and educator, Nika is known as an articulate and innovative communicator, a skilled facilitator of learning experiences, and a proven catalyst for insightful change and forward momentum for individuals and in organizational settings. She is a Certified Small Business Advisor with The One Page Business Plan Company?. In addition to receiving an MBA from the University of Phoenix and an undergraduate degree in Business Administration and Human Resource Management from Holy Names College in Oakland, CA, Nika is currently engaged in a PhD in the Transformative Studies Department at California Institute of Integral Studies. Her research project explores the emergence of collaboration in a leadership team using an improvisation-based performance development model she designed.
Cynthia Winton-Henry
Cynthia Winton-Henry, co-founder of InterPlay with Phil Porter, has researched "what the body wants" in the arts, in jails, shelters, slums, hospitals, churches, businesses, classrooms, doctoral programs in theology and the arts, and in multicultural education. She develops somatic curriculums to address racism, leadership for the Earth, and spiritual intelligence with an eye to supporting millennials. A featured speaker on the Body Intelligence Summit and a keynoter at conferences, Cynthia is the author of What the Body Wants, Having It All: Body, Mind, Heart & Spirit Together Again at Last, Dance: A Sacred Art: Discovering the Joy of Movement as Spiritual Practice, and Chasing the Dance of Life: A Faith Journey,. Currently writing on Body Wisdom and Social Justice and on "Ensoulment," she coaches leaders seeking spiritual intelligence for our time at cynthiawinton-henry.com.