Secrets of InterPlay, Scotland!
A sneaky-deep tool kit for creativity, transformational and fun!
Meg MacLeod
and
Phil Porter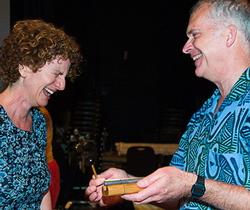 Edinburg, United Kingdom
Begins Friday 29 September at 6pm and ends Sunday 1 October 2017 at 4pm
A rare opportunity to be led by the
remarkable Phil Porter, co-founder of InterPlay
who is coming over from Oakland, California. Phil will be the primary leader, assisted by Meg MacLeod, InterPlay leader and performer. This two day event will give you direct experience in many aspects of the InterPlay system, including InterPlay's eight body-wisdom tools like the Physicality of Grace, Easy Focus, Inner Authority and more.
The Secrets of InterPlay workshop is also an important, foundational element of the InterPlay Life Practice program. Download the
Life Practice Program brochure
here.
Graduates of InterPlay's Life Practice Program say:
"I find the river in me with InterPlay."
– Jen Lauzon, Lauzon Tours
"It gave me confidence to be in this world! Everytime after the class, I feel more and more powerful."
– Linda Simthong, University student
"InterPlay is the vitamins that are helping me have more of what I want in life. I don't have to hide anymore."
– Duke Ramuten, builder, contractor
Special treat!
Mairi Campbell
, musician and performer extraordinaire will host the event and play live music if needed.
Repeating the Program
Anyone who has taken the Secrets of InterPlay, the Life Practice Program or a previous version of those programs, can repeat this event and the Life Practice Program at a significant discount.
Housing
You'll need to arrange your own housing. The venue is in lovely, lively central Edinburgh, close to many places with a variety of accommodations.
Cost:

Cost: $350 (approx £270, depending the rate the day you register) / $250 ( approx £195) for those repeating
Registration/Information:

To register - 510/465-2797 or info@interplay.org. For local info - Mairi Campbell - mairi@mairicampbell.scot or +44 7988 894334.

Venue
Harry Younger Hall, at Canongate Kirk
3 Lochend Close
Edinburg, EH8 8BR
Leaders
Meg MacLeod
Meg is a Certified InterPlay leader and trainer and Certified facilitator and trainer with The Work of Byron Katie.
In 1998 I stumbled onto InterPlay. Over the next few years I became a certified leader and brought InterPlay to Asheville, NC. There I led InterPlay classes and workshops, performed in street and fringe festivals, directed and performed in solo and community InterPlay concerts, and co-led several year-long courses in the InterPlay Life Practice Program. I have led InterPlay in the USA, The Netherlands, Germany and Switzerland, in on-going classes, in trainings for school teachers, camp counselors, university dance and drama students, and at birthdays community celebrations, and conferences such as 'Women and Addictions,' 'Chaordic Commons.'

Earlier years.
From 1975-1985 I was a school teacher mostly for young children, and earned a Masters Degree in Early Childhood Education. I then became an artist-in-residence teaching folk dance and children's singing games for about a year. Over the next five years I was a solo performer and developed five interactive concerts teaching social studies and ecology through music, stories and dance/movement. These shows were done mostly in schools and festivals in 24 US states plus Germany and the UK.

In 1991, I began organizing, advocating for a more sustainable, walkable, livable Asheville. I produced several highly successful conferences and formed two organizations until I became physically and emotionally 'burned-out'. Seeking mind-body healing, I studied in-depth Arnold Mindell Process Psychology, Continuum Movement, Alexander Technique, Feldenkrais and Energy Healing, becoming certified as an Energy Healer.
When I found InterPlay it felt like I'd come home. InterPlay, along with the Work of Byron Katie and Workaholics Anonymous, consistently moves me from addiction, busy-ness and out-of-control helping to playfulness and profound trust.
My current hobbies and passions are singing, playing music (guitar, banjo, ukulele), hula-hooping, learning to speak Dutch, InterPlaying and the Work of Byron Katie.
Phil Porter
Phil is one of the founders of InterPlay. He is a teacher, performer, writer, and organizer. With Cynthia Winton-Henry he is the co-founder of WING IT! Performance Ensemble, and has written several books, some in collaboration with Cynthia, including Having It All: Body, Mind, Heart & Spirit Together Again at Last and The Slightly Mad Rantings of a Body Intellectual Part One. Phil is particularly interested in the use of InterPlay in organizational life, and believes that InterPlay can be a powerful tool to create communities of diversity and peace.