Change Your life! Change Your World!
InterPlay Life Practice Program, Chicago 2018
Assisted by Agnotti Cowie
Nancy Pfaltzgraf
and
Jane Siarny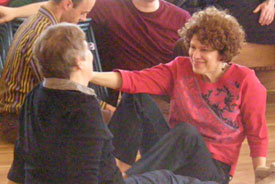 Geneva, IL
Monthly Meetings April - June, September-November, 2018
The Life Practice Program creates opportunities to:
* Discover new ways of getting what you really want in life based on an ethic of play;
* Deepen what it means to live from your natural, embodied self;
* Connect to the wisdom inherent in the creative expression of the body;
* Rest in a community that respects and affirms the wisdom of each individual;
* Expand your sense of connection, play and possibility in the areas you are called to be in the world.
Each month, we will play with InterPlay Tools and deepen our practice of the InterPlay movement, storytelling, and vocal forms. The experiential format includes individual, paired and group forms, presentations, discussion and focus sessions. In between meetings, you'll have brief reading, reflection and writing assignments designed to support your integration and learning.
Continuing Education Credit
50 CE credits for various healthcare and allied healthcare professions are available for those practicing throughout the U.S. CE preregistration is recommended at 2 weeks before the start of your event. Notify Body Wisdom staff at time of registration that you are requesting CEUs. Indicate the profession (E.g. LCSW) and the state you have your license in (E.g. MI). A CE fee of $15 will be due once your profession and state are approved. CEUs are offered through Continuing Education Institute of Illinois.

Monthly Meetings
Fridays 6:30-9:00pm & Saturdays 9:30am-noon, 1:30-4:00pm, 4:30-6:00pm
April 13-14, May 11-12, June 8-9
NO July-August
September 14-15, October 12-13, Final Retreat November 9-10
For more information about the program, download a general brochure about the program
Cost:

$2,250 (includes $400 tuition for Secrets) + room and board costs
Registration/Information:

Contact the Body Wisdom Office at 510/465-2797, Local contacts: Jane Siarny interplaychicago@sbcglobal.net or Nancy Pfaltzgraf at revdancer2@gmail.com

Venue
Geneva United Methodist Church
211 Hamilton
Geneva, IL 60134
ample parking, wheelchair accessible, 1 hour West of Chicago
Leaders
Nancy Pfaltzgraf
Nancy Pfaltzgraf has been joyfully leading InterPlay classes and retreats in local and national settings since 2006. Having discovered InterPlay and the Life Practice Program helped her discover ease and joy in her professional life as the pastor of progressive Christian congregations. Her experience as an RN and a Hospice Chaplain has also given her a unique perspective on the way InterPlay can relieve stress and empower people in the helping professions to live and work with more grace and ease. Since leaving pastoral ministry it has been her delight to continue to offer her gifts through Body Wisdom - Deep Play groups for helping professionals, Retreats and Untensives, InterPlay Life Practice programs, Online Body Wisdom Tools classes, online classes and untentsives focusing on the Move to Greatness wisdom and an Online Interfaith Dance Chapel. Nancy holds coaching certification using the FEBI® [Focused Energy Balance Inventory] and Appreciative Inquiry and delights in both one-to-one and group Soul Coaching. Although her home base is in the Chicagoland area, her mastery of online communication forms allows her to serve people wherever they are. All this allows her to fulfill her life mission to "lead with love, follow with trust and dance with joy with those ready to step into the life-giving rhythms of grace".,
Jane Siarny
Jane Siarny, MFA, Master InterPlay® Leader, Certified Yoga Teacher CYT-200 is dedicated to uplifting the human spirit through creativity, community building and body-wise practices. Her training and inspiration draws from classical ballet & modern dance, improvisation, singing, poetry, yoga and InterPlay. Currently, Jane is the InterPlay Life Practice Program Coordinator and led her first Life Practice group in 1999. She also is a trainer in the InterPlay Leader Training Program. She is happy to have discovered InterPlay's therapeutic, community building approach to celebrating the wisdom of the body. From 1994-2004 she was co-director of the InterPlay based OUTABOUNDS Performance Company, performing and teaching throughout the U.S. Jane's story can be found in MOVE: What the Body Wants by InterPlay co-creators Cynthia Winton-Henry with Phil Porter.