FREE your creative expression!
Poetry in Motion
Playing with movement ~ Playing with sound ~ Playing with words & images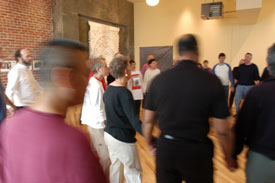 Geneva, IL
September 22-23, Friday 6:30 pm - Saturday 4:00 pm
Using InterPlay forms, we will dive into the art of moving with words, letting images MOVE us, and delight in the surprises that playing with our stories, movement and voice brings. Friday 6:30-8:30 Saturday 10:00 am-noon Saturday 2:00-4:00pm
Cost:

$25 per workshop ~ $55 for the whole weekend Homestays available upon request.
Registration/Information:

Jane Siarny InterPlayChicago@sbcglobal.net 630/715-8590

Venue
Geneva United Methodist Church
211 Hamilton
Geneva, IL 60134
ample parking, wheelchair accessible, 1 hour West of Chicago
Leaders
Jane Siarny
Jane Siarny, MFA, Master InterPlay® Leader, Certified Yoga Teacher CYT-200 is dedicated to uplifting the human spirit through creativity, community building and body-wise practices. Her training and inspiration draws from classical ballet & modern dance, improvisation, singing, poetry, yoga and InterPlay. Currently Jane leads InterPlay & Yoga in a variety of settings and is the InterPlay Life Practice Program Coordinator. She led her first Life Practice group in 1999 and has led numerous groups since. Jane's experience with InterPlay began when she was transitioning out of dance performance and looking for a more holistic approach to movement education and her own experience. She was about to enroll in a Masters of Dance & Movement Therapy when she discovered InterPlay's therapeutic, community building approach to celebrating the wisdom of the body. From 1994-2004 she was co-director of the InterPlay based OUTABOUNDS Performance Company, performing and teaching throughout the U.S. Jane has also danced with professional ballet and modern companies; created/ directed touring educational programs, multi-cultural performance programs & dance schools. Her research for her yoga teacher certification at Prairie Yoga is entitled Creativity, Play & the Search for the Divine Dance in YOGA. Jane's story can be found in MOVE: What the Body Wants by InterPlay co-creators Cynthia Winton-Henry with Phil Porter.