InterPlay's Online Expert Series
Online Experts: The Student "Body"
Considering InterPlay applications in university classrooms
Caroline Kisiel
and
Cynthia Winton-Henry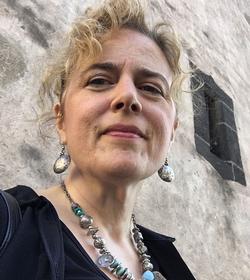 Online, ONLINE
Thur Nov 16, 2017 • 3 pm PST (CA time)
Dr. Caroline Kisiel is an Assistant Professor in DePaul University's School for New Learning (snl.depaul.edu) where she works with both undergraduate and graduate adult learners returning to school to seek or finish degrees.
She has twenty-three years of experience as an InterPlayer and twenty years of experience teaching adults in higher education. Caroline has used approaches from the InterPlay practice and system in a variety of classroom settings, which she has found relevant for twenty-first century learners, particularly adults returning to school and students in formal degree programs.
This presentation is for educators who work with students in any discipline. Today's adult and young adult students show up in our classrooms with life and work anxieties, challenging experiences with grading and authority, and often find that academic expectations translate into judgment and issues of self worth and identity. While most students in formal classroom settings have been taught head and brain-centered ways of learning and how to "focus" on information, using the InterPlay practice Caroline teaches a whole body approach to learning, the value of releasing the excess or unneeded through "exformation," and how "easy focus" learning can be just as valuable as focused learning. By including the wisdom of the body in the classroom it is possible to create ease-filled, successful learning experiences and more collaborative learning communities.
In addition to the video recording, participants will receive a list of resources Dr. Kisiel has found useful.
Register with the button below. Later you will receive login information to join this online session using "Zoom."
Cost:

$30
Registration/Information:

Body Wisdom, 510-465-2797 or info@interplay.org

Venue
Online
Online, ONLINE
This will be an online event which could originate from anywhere in the world and would be open to anyone around the world.
Leaders
Caroline Kisiel
Caroline Kisiel is a Certified InterPlay Leader and an Assistant Professor in DePaul University's School for New Learning, where she guides adult students in the arenas of adult learning, creativity, travel studies, writing, research, and study abroad opportunities. She teaches and applies the InterPlay system and forms in many of her undergraduate and graduate courses at DePaul. She has been an InterPlay practitioner as well as an educator in college and university settings for 20+ years. She has designed courses and taught in the arenas of adult learning and training and development, and has taught the application of creativity and InterPlay practices to workplace relationships and culture, diversity concerns, team building, leadership, organizational change, and presentation skills, in both onsite and online settings. While living in the UK from 2003-2008 she facilitated an ongoing InterPlay workshop for graduate students, and she served as the Regional Contact from 2003-2013. Caroline has done master's work in interdisciplinary arts, humanities and cultural studies, and PhD work in travel literature. She is interested in how InterPlay can create more easy focus in academia, and loves how the magic of InterPlay can help others to unlock their own stories and make connections – both live and online – with contact and ease.
Cynthia Winton-Henry
Cynthia Winton-Henry, co-founder of InterPlay with Phil Porter, has researched "what the body wants" in the arts, in jails, shelters, slums, hospitals, churches, businesses, classrooms, doctoral programs in theology and the arts, and in multicultural education. She develops somatic curriculums to address racism, leadership for the Earth, and spiritual intelligence with an eye to supporting millennials. A featured speaker on the Body Intelligence Summit and a keynoter at conferences, Cynthia is the author of What the Body Wants, Having It All: Body, Mind, Heart & Spirit Together Again at Last, Dance: A Sacred Art: Discovering the Joy of Movement as Spiritual Practice, and Chasing the Dance of Life: A Faith Journey,. Currently writing on Body Wisdom and Social Justice and on "Ensoulment," she coaches leaders seeking spiritual intelligence for our time at cynthiawinton-henry.com.