Connect, Play, Rest or Creativity, Persistence, Renewal. What's YOUR CPR?
Northeast Regional Day of Play
CPR for these times!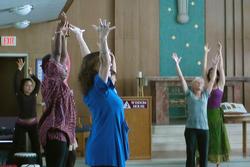 Guilford, CT
Saturday December 9, 2017 9:30-12:00 1:30-4:00 (Lunch will be available for a modest fee)
Do the goings-on in the world often feel TOO MUCH? Are you craving a creative way to lean in, gain support, be affirmed, express your body's song-dance-words-connection in a safe, playful way? This day of InterPlay is in two parts: a morning for those with InterPlay experience and an afternoon for ALL, regardless of experience. Come for part or all of this daylong event and be nourished! We will be lead by many wonderful experienced InterPlay Leaders and Leaders-In-Training.
Cost:

$20. per session suggested but all are welcome regardless of contribution.
Registration/Information:

contact Lisa Laing at kineticalchemy@gmail or 860/964-0481

Venue
St. John's Episcopal Church
129 Ledge Hill Rd.
Guilford, CT 06437
Arrive at 9:15 for a 9:30 start. There is ample parking and you will have the option of a soup and bread lunch, hosted by members of St. John's for a donation, or bring your own brown bag lunch. (Please let Lisa know your lunch choice for the food providers). The AM session is designed for more experienced InterPlayers and the afternoon session is open to ALL, so invite your friends, family and colleagues. This is a wonderful opportunity to share the InterPlay wisdom of healthy, creative, community with them.
Leaders
CC King
CC King is a certified InterPlay Leader and trainer, Boston-area coordinator and a memory play specialist. She has been practicing the joyous unfolding of Interplay for over 15 years. Play with elders and Memory Cafes are a special interest. CC is an expressive therapist, visual artist, teacher and community activist. As the co-founder of a local arts and environment program, she facilitates workshops in organic sculpture and organizes public performance. Her background includes nonprofit management, art and family therapy, trauma-informed InterPlay and a life-long commitment to finding sustenance, creative activism, and joy in the natural world.
Lisa Laing
Lisa Laing is a Certified InterPlay Leader, Modern Dancer, Certified Fitness Professional and Certified Cancer Exercise Specialist . Lisa incorporates the practices and forms of InterPlay in each of these aspects of her career. She has brought InterPlay to incarcerated women at York Correction Facility in CT, students at The Juilliard School, Yale Divinity School and to many spiritual groups as well as to elementary school aged children. It continues to be a privilege to co-lead a Cancer Wellness Group (Hope is Power), very much informed by InterPlay practices. Lisa is one of the Northeast Regional InterPay Leaders (as well as a Regional event coordinator) and has co-lead the InterPlay Life Practice Program and Secrets of InterPlay in the northeast with both Katrina Browne and CC King. "I am blessed to be a part of this world-wide community of creators, instigators, healers, nurturers, adventurers, huggers, grace-operatives, activists, artists; InterPlayers All!"