Play to Create
Fire Up Your Resilience
Come refresh your zest!
TraceyJoy Miller
and
Becky Myrick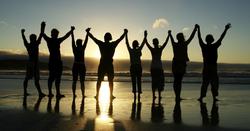 Langley, WA
Thursdays: January & February 2018
6:30pm - 8:30pm
This is a drop in group open to anyone.
No Prerequisites.
In InterPlay we rediscover the creative power unleashed in playfulness and silliness.
Together we break down movement, story, voice and stillness into manageable pieces of creativity making it possible for both the shy and gregarious to have satisfying, successful experiences of embodied creativity.
Cost:

Suggested Donation $20 - $10 (No one turned away for lack of funds)
Registration/Information:

TraceyJoy traceyjoy.miller@gmail.com or (360) 941-8231

Leaders

TraceyJoy Miller

TraceyJoy

was first drawn into InterPlay in 1999 by the playful encouragement of the InterPlay community in the Twin Cities. Initially, InterPlay was an opportunity to have more dance and contact with others (even though she wasn't a "dancer"). Over time, InterPlay became a community where she could show up "as is" and play with her own creative expression and the content of her life, while being held in positive regard and affirmed by others. InterPlay allowed her to step beyond the limits of who she knew herself to be. She became more playful in her relationships and more resilient in challenging situations.

For the last Six years she and her beloved cat Simon have lived in co-housing on Whidbey Island. It is her passion to create environments where play, reflection, creative expression, insight and growth are likely to emerge. She is committed to being an agent of affirmation and encouragement for authentic expression.

Becky Myrick

I am a long-time InterPlayer (over 20 years). My upbringing was in South Africa. I have a love for lively African music and movement. I love to teach InterPlay combined with energy healing practices. I also offer individual sessions and retreats. Each person I work with amazes me with their ability to expand and grow in love, joy and life purpose!