Body-Based Tools, Ideas, and Hope
CHANGING THE RACE DANCE
A Weekend Workshop in InterPlay Methods and Performance Forms
Soyinka Rahim
and
Cynthia Winton-Henry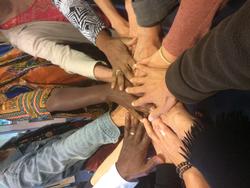 Chapel Hill, NC
April 20–21, 2018, Fri. 7-9 pm & Sat. 10:30 am-9 pm
This workshop is focused on building our creative toolkit as educators and learners, and our capacities as individuals-in-community to move out of systems of oppression, assimilation, and uneven methods of attending to racist violence and white silence. The weekend is rooted in InterPlay forms that center the body, breath, and intuitive story, movement, and song forms to create more ease, spaciousness, and respect in places where they can be of deep benefit.
Changing the Race Dance uses fewer words and more body-based wisdoms to identify and practice ways of dislodging the harmful effects of a white supremacist social order and multi-faceted racisms that we face daily. Incorporating restorative and contemplative practices and the sometimes-radical act of improvisation, the workshop focuses on bolstering our skills to unpack inequity to its roots, and discern and celebrate what's working in people-based movements toward freedom and change. InterPlay forms are accessible to all physical mobilities and experience levels.
To attend Complete required registration application. Participants must attend entire weekend. Free homestays possible.
Cost:

Suggested donation $5-50, for those who are able, scholarships widely available. (Bring cash or check to Body Wisdom)
Registration/Information:

marie@itisinyou.org and sonnykel@live.unc.edu

Leaders

Soyinka Rahim

Soyinka Rahim, founder and director of OurThing Arts Company and BIBOLOVE, is a Certified InterPlay Leader. Soyinka has a long history as a member of the Bay Area's most renowned modern and ethnic dance companies. Her work taps into the power of sound and vibration to create peace and happiness for all humanity. In addition, she created the original, acclaimed Dance Play "An Alter Piece to Alter Peace," and has worked with passion for intergenerational community in schools and community centers all over the West Coast and U.S. Her work as a conference weaver and workshop leader includes Race Forward, National Association for Independent Schools Teachers of Color, Boys and Girls Clubs, Spiritual Directors International, and the Parliament of World Religions.

Cynthia Winton-Henry

Cynthia Winton-Henry, co-founder of InterPlay with Phil Porter, has researched "what the body wants" in the arts, in jails, shelters, slums, hospitals, churches, businesses, classrooms, doctoral programs in theology and the arts, and in multicultural education. She develops somatic curriculums to address racism, leadership for the Earth, and spiritual intelligence with an eye to supporting millennials. A featured speaker on the Body Intelligence Summit and a keynoter at conferences, Cynthia is the author of What the Body Wants, Having It All: Body, Mind, Heart & Spirit Together Again at Last, Dance: A Sacred Art: Discovering the Joy of Movement as Spiritual Practice, and Chasing the Dance of Life: A Faith Journey,. Currently writing on Body Wisdom and Social Justice and on "Ensoulment," she coaches leaders seeking spiritual intelligence for our time at cynthiawinton-henry.com.