Play your vision!
InterPlay Life Practice Program in Scotland
Immerse yourself in the system of InterPlay
Meg MacLeod
and
Mairi Campbell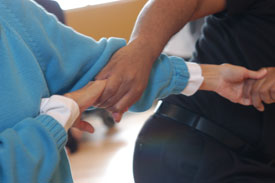 Edinburgh, Scotland, United Kingdom
The Life Practice Program is InterPlay's immersion in creative, playful ways to connect with your body wisdom, with yourself and with others. It creates opportunities to:
* Discover new ways of getting what you really want in life based on an ethic of play;
* Deepen what it means to live from your natural, embodied self;
* Connect to the wisdom inherent in the creative expression of the body;
* Rest in a community that respects and affirms the wisdom of each individual;
* Expand your sense of
connection, play and possibility
in the areas you are called to be in the world.
Graduates say about the Life Practice Program…
It is the vitamins helping me have more of what I want in life…. I don't have to hide anymore.
– Duke Ramuten, contractor
"I find the river in me with InterPlay."
– Jen Lauzon, owner, LaZoom tours
Each month, we will play with
InterPlay Tools
and deepen our practice of the InterPlay movement, storytelling, and vocal forms. The experiential format includes individual, paired and group forms, presentations, discussion. Also three focus sessions, where you will get individual attention from the Program leaders so you can identify your personal desires and intentions. You'll have brief reading, reflection and writing assignments designed to support your integration and learning and the opportunity to connect with another participant in the program in between meetings.
Led by Meg MacLeod, assisted by Mairi Campbell.
When & Where:
The Program includes four multi-day meetings May through November 2018, three in Edinburgh and one on the beautiful isle of Lismore:
May - Edinburgh
Sunday 13th - 2pm - 8.30pm
Monday 14th - 9.30 - 6.30
Tuesday 15th 10 - 12.30
June: Ednburgh
Monday 25th Potluck, gather at 5pm. Program- 6.30 - 9pm
Tuesday 26th 9.30 - 6.30
Wednesday 27th 9.30 - 3.30
September on the island of Lismore - we'll send registered folks all the details about getting to and from the island and the hall in Lismore
Monday 17th - Can arrive from 3pm. Program begins on Tuesday
Tuesday 18th - 9.30 - 6.30
Wed 19th - 9.30 - 6.30
Thurs 20th 9.30 - 6.30
Friday 21st - leave for home
November - Edinburgh
Friday 16th Potluck, gather at 5pm. Session from 6.30 - 9pm
Saturday 17th 9.30 - 6.30
The program usually begins with the Secrets of InterPlay, which took place in Scotland in 2017. If you didn't attend that event, you can still enroll for the program and take the Secrets later in another location or via the online course.
Repeating the Program:
Anyone who has taken the Secrets of InterPlay, the Life Practice Program or a previous version of those programs, can repeat those events at a significant discount.
Download the full Life Practice Program brochure
here.
Cost:

$2,250 includes tuition for Secrets of InterPlay (does not include food or lodging). Payment over time is available, just ask!
Registration/Information:

Register: $100 deposit to the Body Wisdom office (California): +1 510/465-2797 or info@interplay.org. Local info: Mairi: mairi_campbell@hotmail.com

Venue
The Puppet Lab Studio
81 Great Junction Street
Edinburgh, Scotland, EH6 5HZ
Leaders
Meg MacLeod

Meg MacLeod has been leading InterPlay classes and workshops since 1998: in the USA, the Netherlands, Scotland, Germany and Switzerland, in on-going classes, school teachers trainings, camp counselors, university dance and drama students, and at birthdays community celebrations, and conferences. She has directed and performed in numerous choreographed and InterPlay (improvisational) concerts.

Earlier years.
As a school teacher she regularly directed performances starring the children or brought her musician friends to her school to perform for the kids. In the mid- late-80s as an artist-in-residence, she developed and solo-performed five interactive concerts using music, stories and dance/movement to teach social studies and ecology in 24 US states, Germany and the UK.

As a community activist for Walkable Communities in the 90s she produced several highly successful conferences and two organizations until becoming physically and emotionally 'burned-out'. She credits recovery of her senses and health to InterPlay, the Work of Byron Katie and the 12-step Workaholics Anonymous Program, and loves to share the playfulness and trust in her intuition and in life she has recovered.
Current passions are song-writing, InterPlaying, working the 12-steps and becoming fluent in the Dutch language.
Mairi Campbell
I'm a musician, performer and facilitator based in Scotland. I make concerts and music theatre shows - the latest is called 'Mairi Campbell - Pulse'. I first came across InterPlay on a recommendation and realised it was doing exactly what I wanted to be doing! I wanted to see how it would translate into Scottish culture so organised many InterPlay events in Scotland mainly and invited leaders from the US and Europe. I became a certified leader in 2016. I have found interplay very helpful both professionally and personally.