Spring Equinox InterPlay Workshop
Planting Seeds & Playful Deeds
Manifesting Our Good in the Spirit of Play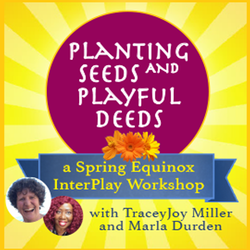 Seattle, WA
Sunday, March 18th: 1:00pm - 3:30pm
Everyone Welcome

Join Marla Durden and TraceyJoy Miller> in
Celebrating Spring & planting your seeds.

Embody your Good through dance, song & play.
Cost:

$45 at the door; $40 in advance.
Registration/Information:

To Register contact Marla Durden at (206) 818 - 0281 or marla@AlchemySampler.com

Leaders

TraceyJoy Miller

TraceyJoy

was first drawn into InterPlay in 1999 by the playful encouragement of the InterPlay community in the Twin Cities. Initially, InterPlay was an opportunity to have more dance and contact with others (even though she wasn't a "dancer"). Over time, InterPlay became a community where she could show up "as is" and play with her own creative expression and the content of her life, while being held in positive regard and affirmed by others. InterPlay allowed her to step beyond the limits of who she knew herself to be. She became more playful in her relationships and more resilient in challenging situations.

For the last Six years she and her beloved cat Simon have lived in co-housing on Whidbey Island. It is her passion to create environments where play, reflection, creative expression, insight and growth are likely to emerge. She is committed to being an agent of affirmation and encouragement for authentic expression.