Change Your life! Change Your World!
Secrets of InterPlay ATLANTA 2019
Unlock the Wisdom of the Body
Jennifer Denning
,
Christine Gautreaux, MSW
,
Carolyn Renée
, and
Ruth Schowalter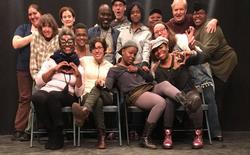 Lineville, AL
Friday, May 17 7:00 pm -
Sunday, May 19 12:00 pm
Learn how you can use the tools and ideas of InterPlay to
unlock the wisdom of your body.
Get your body, mind, heart, and spirit all on the same page. Learn more about yourself through connection and community.
Create more ease and fun in your life.
This multiple-day retreat led by Jennifer Denning, Christine Gautreaux, Carolyn Renee and assisted by Ruth Scholwalter, will give you direct experience in many aspects of the InterPlay system developed by Cynthia Winton-Henry and Phil Porter over the last 28 years.
Continuing Education Credit
15 CE credits for various healthcare and allied healthcare professions are available for those practicing throughout the U.S. and for educators only practicing in Illinois. CE pre-registration is recommended at least 2 weeks or more before the start of your event. Notify both the Body Wisdom office (510) 465-2797 at time of registration and your local leader(s) that you are requesting CEUs. A fee of $25 per program will be due at the time you register. CEUs are offered through Continuing Education Institute of Illinois.

Based on InterPlay's commitments to build transformational communities of practice, people of color, millennials, full-time artist-activists, and undergraduate and graduate/professional students are eligible for the $300 repeaters rate.
Schedule
7 P.M. Friday evening through noon on Sunday
Cost:

$400 tuition ($300 for repeaters)
Registration/Information:

510/465-2797 or info@interplay.org