Change Your life! Change Your World!
Secrets of InterPlay ATLANTA 2019
Unlock the Wisdom of the Body
Jennifer Denning
,
Christine Gautreaux, MSW
, and
Carolyn Renée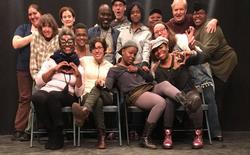 Lineville, AL
Friday, May 17 7:00 pm -
Sunday, May 19 12:00 pm
Learn how you can use the tools and ideas of InterPlay to
unlock the wisdom of your body.
Get your body, mind, heart, and spirit all on the same page. Learn more about yourself through connection and community.
Create more ease and fun in your life.
This multiple-day retreat led by Jennifer Denning & Christine Gautreaux will give you direct experience in many aspects of the InterPlay system developed by Cynthia Winton-Henry and Phil Porter over the last 28 years.
Continuing Education Credit
CE credits for various healthcare and allied healthcare professions are available for those practicing throughout the U.S. and for educators only practicing in Illinois. CE pre-registration is recommended at least 2 weeks or more before the start of your event. Notify both the Body Wisdom office (510) 465-2797 at time of registration and your local leader(s) that you are requesting CEUs. A fee of $25 per program will be due at the time you register. CEUs are offered through Continuing Education Institute of Illinois.

Based on InterPlay's commitments to build transformational communities of practice, people of color, millennials, full-time artist-activists, and undergraduate and graduate/professional students are eligible for the $300 repeaters rate.
Schedule
7 P.M. Friday evening through noon on Sunday
Cost:

$400 tuition ($300 for repeaters)
Registration/Information:

510/465-2797 or info@interplay.org

Leaders

Jennifer Denning

Jennifer Denning is the co-founder of InterPlay Atlanta. She launched InterPlay Atlanta's offerings with women in prison and teaches weekly at The Atlanta Pretrial Detention Center. She also regularly leads InterPlay at Trinity House and The Friendship Center. She is an InterPlay Life Practice Program leader and directs Atlanta's InterPlay performance group, Soulprint Players.

Christine Gautreaux, MSW

Christine Gautreaux holds a Bachelor's and Master's Degree in Social Work and is dedicated to the pursuit of play, joy, art & social justice. Christine's superpowers include connecting people, helping folks manifest their dreams, standing up against injustice and using art to make a difference in the world. She currently uses performance art, movement, poetry, storytelling and Interplay to address issues of oppression with women who are incarcerated, people living with severe and persistent mental illness and homelessness. She also works with activists and artists to maintain balance and self-care during these intense times we find ourselves living. Christine Gautreaux has professional experience with successful grant writing, community organizing and social media marketing. She is a life coach for caregivers who are burnt out and ready to take back their own life and make it delightful again. She is the co-author of Stillpoint: A Caregivers Playbook to find ease and to take a deep breath and reclaim joy.

Carolyn Renée

Carolyn Renée is a teaching and performing artist, InterPlay Leader, organizer and administrator. She serves humanity as an organizer, teaching artist and InterPlay Leader. Since 2006 she has been a teaching artist with Synchronicity Theatre's "Playmaking For Girls" (PFG) program that empowers incarcerated girls, refugees, and young women in foster care through play-writing, storytelling, and theater performances. Carolyn Renée has written two plays, one of which she received funding from Atlanta Mayor's Office of Cultural Affairs. In InterPlay, an organization that is committed to using the art of InterPlay; an art-based system to tap into the wisdom of the body and promote well-being, she has produced community showcases, taught homeless men and women, and organized racial equity and transformation workshops. She serves as a Co-Liaison Leader to InterPlay Leaders and People of Color. In May 2017, Carolyn Renée served as the lead organizer for the national InterPlay organization's first ever People of Color Retreat. She solidified her art and activist roots in her former roles as Arts Program Director with the Mississippi Arts Commission, and Executive Director of Alternate ROOTS, a nonprofit art and social change organization for artists-activists. For a decade her work with Alternate ROOTS, and the Mississippi Arts Commission afforded her the opportunity to work closely with social change artists, art producers and presenters; the nonprofit arts community, and a myriad of arts organizations throughout the southeast United States and the District of Columbia. Serving in an organizing role she helped create undoing racism workshops, mini-festivals, learning exchanges, retreats, showcases and conferences. In September 2018, she served as advisor to the Atlanta venue of the 50,000 Lions of Justice Festival in support of youth performers for more than 50,000 youth audience participants in nine states throughout the USA. Carolyn Renée believes the work of community organizing is like riding a bicycle, or swimming—once you know how you just never forget how to create superb opportunities for connection. She uses "Carolyn Renée" as her full name.