Play by the Ocean, Sing by the Sea!
SUMMER UNTENSIVE ON THE NC COAST
Ginny Going
and
Tom Henderson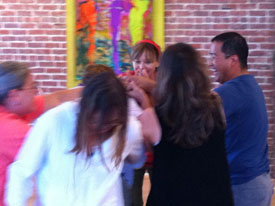 Pine Knoll Shores, NC
Who doesn't need more PLAY these days! Come on down to the ocean for an extended time of creative play in a community of people who'll affirm and applaud you! There'll be time for dancing, telling stories, walking on the beach, swimming in the ocean, enjoying nature and being part of a playful community. Trinity Center is nestled in a beautiful maritime forest with direct access to the ocean and the sound..

Cost: $290 for housing and meals at Trinity Center. This amount does not include any tuition for organizing and leading this event. At the Untensive participants are invited to make a contribution to Ginny and Tom for organizing and leading.

To register, send a $100 deposit to Colleagues, 400 S. Boylan Ave., Raleigh, NC 27603 For more information, contact Ginny or Tom at 919-821-3723 or colleagues.interplay@gmail.com
Cost:

$290 for housing and meals at Trinity Center plus donation for leaders
Registration/Information:

colleagues.interplay@gmail.com or 919-412-3851

Venue
Trinity Retreat Center
Pine Knoll Shores, NC 28575
Trinity Center is nestled in a beautiful maritime forest on the North Carolina coast with access to the sound and the ocean.
Leaders
Ginny Going
As a recovering serious person, I consider InterPlay my 12-step program and my life practice for having more ease and grace. I've worn a variety of vocational hats in my life and currently describe myself as a community artist, bodyspirit mentor and InterPlay leader. I love offering people the "big body" tools of InterPlay for telling their stories, especially people on the margins of our communities. I am also passionate about embodied spirituality, engaging people in prayer and worship forms that include and honor the body through movement, stories and song. With my partner and husband Tom Henderson, I teach and lead retreats in a variety of settings.
Tom Henderson
Tom is a certified InterPlay leader, community artist, organization development consultant and retired pharmaceutical chemist. With his wife, Ginny Going, he is co-owner of Colleagues, a business dedicated to enabling individuals and organizations to thrive. Ginny and Tom also co-direct Off the Deep End Ensemble, an InterPlay performance company founded in 1997.