Border Walls, Government Shutdowns, Climate Change, oh my!
Lightening Up about News Overload
Staying sane in a crazy world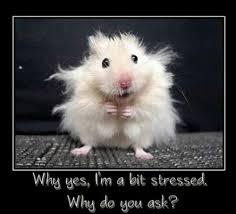 Oakland, CA
Sunday, February 24, 3:00 - 5:30 pm
LifeFire Workshops & Coaching is excited to present a new "Lighten Up" Workshop:
Lightening Up About News Overload: How to keep sane in a crazy world
Led by Annie Goglia


Sunday February 24, 2019 3:00 - 5:30 pm


InterPlayce 2273 Telegraph Ave corner of Telegraph & 23rd: entrance on 23rd Oakland, CA 94618

So much hard news is hitting us every day. From border walls and government shutdowns to climate change and political nastiness. Yikes!

The stress aftermath does a number on our minds and our bodies.


It's easy to find ourselves:


Overdoing and getting burnt out Getting overwhelmed or depressed and tuning out Wanting to do something but feeling paralyzed and unable to take action


Lightening Up about News Overload is not about making fun of truly bad things happening in the world.


It IS about:


Having a safe space to express and release tension Finding healthy ways to transform stress Learning to stay present and connected with yourself and others Aiming towards living zestfully, regardless of what's going on At this workshop we will learn to stop and take a breath. To move our bodies. To laugh with others. To explore living joyfully. To regain our ability to relax. To act flexibility, effectively and sustainably.


We'll use laughter, movement, play and mindfulness practices to move you from stressed out to feeling energized and empowered!


Join us to get your joy on with tools such as:


Laughter Yoga Deep breathing Intentional sharing InterPlay Healing Movement and more


Annie Goglia is a Laughter Yoga Teacher, InterPlay Leader, Life Coach


Cost:


Great deal! $35 Early bird by Feb 23 $45 drop in Feb 24 pay by check or cash only


Contact Annie to pay by check or for more info cell: 510-282-1279 Email: annie@lifefire.com


For PayPal: Please go to http://www.lifefire.com/publiceventsworkshops.html


Financially challenged? Partial work exchange possible. Limited availability.


Registration/Information: Annie Goglia cell: 510/282-1279 Email: annie@lifefire.com http://www.lifefire.com/publiceventsworkshops.html
Cost:

$35 Super early bird by Feb 23; $45 drop in--day of workshop
Registration/Information:

Contact Annie Goglia 510/282-1279 or annie@lifefire.com

Venue
InterPlayce
2273 Telegraph Avenue (at 23rd St.)
Oakland, CA 94612
InterPlayce is the center of the InterPlay universe. The offices for Body Wisdom, Inc. are also located here. The building is at the corner of 23rd and Telegraph, one block north of West Grand. It is just a few blocks from the 19th Street Downtown Oakland BART station, and on several convenient bus lines. On-street parking is always available at night and metered during the day. It is also easily accessible by several of the major freeways.
Click here for a map.
Leaders
Annie Goglia
Annie Goglia joyfully completed the Interplay Leader Training Program in Spring 2009. Annie coordinates and often leads the InterPlay Women's Class on Monday morning. Her business--LIfefire--includes Lighten Up Your LIfe workshops in which Annie skillfully weaves in InterPlay, Laughter Yoga and her coaching background. She has lead the Oakland Lifefire Laughter Club since 2007. In 2004 she completed her training at New Ventures West Coaching Program. Annie, a Master of Arts in Teaching, is an experienced workshop leader, with 20 years in the human service field and as a peer counselor.