Clarity and action to bring your gifts to the world, earn a good living and create a life you love.
LEADING YOUR BUSINESS™
Business development using the forms and concepts of InterPlay along with business skills, strategy and mindset.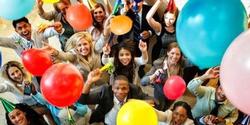 Online, ONLINE
Thursdays 4 - 5 pm, March 7 - Aug 22, 2019.
Leading Your Business™ is a business development class designed to energize your mindset, clarity and strategy so you have multiple breakthroughs in income and create ease around your business, self-care and lifestyle.We will use the forms and concepts of InterPlay to release stress, express yourself and generate creative ideas as your business develops.
Classes are designed to leave you in a higher energy state so you may more easily manifest your business and personal goals. Build your confidence and attract more clients. We will use the forms and concepts of InterPlay to allow you to release stress, express yourself, and generate ideas, as we develop your business..
Through a clear step by step program you will develop skills, strategy an unstoppable mindset in the following areas:
*The entrepreneurial mind.
*The mindset of Success.
*Clearing the way for abundance.
*Identifying and nurturing your areas of genius.
*The business model that best serves both you and your clients.
*How your passions and talents benefit your ideal clients.
*Attract more clients.
*Products, packages and programs that connect and deliver results.
*Income generation.
*Achieving your R.O.I. and much more.
*Multiple income streams for easy flow.
*The business of money - clarity, management and responsibility.
*Boundaries that enhance energy.
*Time, policies and agreements.
*Going with the flow.
*The keys to thriving - self-care, support and free time.
*Available resources.
*Hiring.
*Managing employees.
*Becoming the visionary in your business.
*Associates, joint ventures and partnerships.
*Ninja marketing made easy.
*Letting people get to know you.
*Leveraging a booming business.
*Creating a life you love!
*Being an entrepreneur is a spiritual path.
*Giving back - service, mentoring & tithing.
*Building a new world - a legacy that matters.
A 12 - 24 month program in 6 month increments. We will look at you setting an ROI for the course. Many clients achieve it. Check with your accountant as the class may be tax deductible as professional development.
Thursdays 4 to 5 pm on Zoom video conferencing from your location. The class is 10 min of focusing/prep time and 50 minutes of training time. Class limited to 5 participants.
Three live meetings a month, with additional video curriculum, handouts and resources. Having the fourth week off, allows you to catch up on reviewing course videos and implementing actions or to rest and integrate.
Accepting and championing group.
Client success: look at testimonials
here.
Register Here.
Cost:

$1897, or $367/month
Registration/Information:

Laurece West, text please to 919.627.2845.

Venue
Online
Online, ONLINE
This will be an online event which could originate from anywhere in the world and would be open to anyone around the world.
Leaders
Laurece West
Laurece West is a Business Consultant, Entrepreneur, Voice and Performance Coach, Recording Artist and InterPlay Leader. She is married to Terry McCarthy and together they have lead the InterPlay Life Practice Program and directed the InterPlay performance troupe Impromptu Players in Durham, NC. Impromptu Players was primarily a service organization performing in Ronald McDonald Houses, children and adolescent hospital psych wards, convalescent centers, and libraries, with one public performance a season. Through her work with vocalists Laurece has cataloged the benefits of InterPlay for performers and presenters. These findings apply to everyone! Read more about the results of practicing InterPlay on the Session Structure page at www.laureceweststudios.com.
here
. Laurece's business training and consulting website is
Easily Creative.com
.