Connect, move, be surprised, and learn.
InterPlay: an introduction
Community connection.
Randy Newswanger
and
Juji Woodring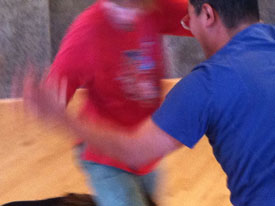 Lancaster, PA
Sunday, April 14, 12 p.m.-1:30 p.m.
FREE InterPlay opportunity. I've been doing InterPlay for 20 years and it has changed my life. In this 1 hour session we will learn something about ourselves, connect with others, encounter surprise, and have a little fun. InterPlay is an embodied, creative, expressive practice. I can't really explain it, but if you have read this far you should come try it!
Cost:

Free
Registration/Information:

randnews@aol.com or text 415/596-8180

Venue
Unitarian Universalist Church of Lancaster
538 W Chestnut St.
Lancaster, PA 17603
Leaders
Randy Newswanger
Randy has a B.A. Physics from Goshen College and an M.Div, from Starr King School for the Ministry in Berkeley with an emphasis in religion and social change. His experience includes teaching high school math and physics, working in philanthropy, and turning doodles into fine art prints. He desires to build just and sustainable communities, subscribes to a summer produce box, and tries to incorporate InterPlay philosophy as a core decision making tool in his life.