If you want to change your life, change your practice...
Secrets of InterPlay, Minnesota style! 2020
DIVE DEEP INTO THE TOOLS & PRINCIPLES OF INTERPLAY
Phil Porter
,
Celia Swanson
,
Barbra Wiener
, and
Masankho Banda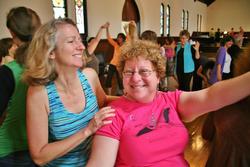 Minneapolis, MN
Friday MAY 8 - Sunday MAY 10, 2020
(Friday 7-9:30 pm, Saturday 9:00 am-4:00 pm, Sunday 9:00 am-6:00 pm)
Learn how you can
use the tools and ideas of InterPlay to unlock the wisdom of your body.
Get your body, mind, heart, and spirit all on the same page. Learn about yourself through
connection and community.
Create
more ease and fun
in your life.
This multiple-day event will give you direct experience in many aspects of the InterPlay system. It is also an important element of the InterPlay Life Practice Program in Minneapolis, MN, starting in June 2020.
Financial Assistance
Diversity is a great gift in the InterPlay experience. Based on our commitment to Racial Equity and Transformation (read our statement here) and our understanding of other structural and personal inequalities that exist, Body Wisdom is committed to making our programs financially accessible. Financial considerations need not be a barrier to your participation. Financial support and flexible payment plans are available. Please feel free to speak to one of the leaders of this program or to one of the InterPlay staff in the Body Wisdom office (510/465-2797 or info@interplay.org).


Continuing Education Credit
15 CE credits for various healthcare and allied healthcare professions are available for those practicing throughout the U.S. and for educators only practicing in Illinois. CE pre-registration is required at least 2 weeks before the start of your event. Notify the Body Wisdom office (510) 465-2797 at the time of registration that you are requesting CEUs. A fee of $25 per program will be due at the time you register. CEUs are offered through Continuing Education Institute of Illinois.

Registration
$400 tuition ($300 for repeaters)
$100 Deposit now. Balance due by Apr 23.

PLEASE NOTE: After April 1, tuition goes up $50.
Housing Options
Please contact the local organizer Celia Swanson
Secrets of InterPlay Tuition is included in the full Life Practice Program.

Repeating the Program
Anyone who has previously completed the Secrets of InterPlay is eligible for the $300 repeaters rate.
Cost:

$400 tuition ($300 for repeaters)
Registration/Information:

Body Wisdom office: (510/465-2797) or info@interplay.org

Venue
Spring House Ministry Center
610 West 28th Street
Minneapolis, MN 55408
Between Lyndale and Garfield Avenues on 28th street. PARKING: In parking lot next to building park at "SpringHouse Only" Signs (6) and spaces with no signs (20). The only place you can't park at are signs that say "24 Hr Reserved". There is also street parking on Lyndale and 28th and a big lot behind the Jungle Theater.