Living the dream in DC
MLK Day: An Interplay Celebration and Potluck with Masankho Banda and Bokamoso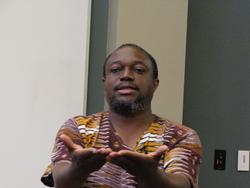 Washington, DC
Monday 10am - 4:30pm on January 18, 2016
InterPlay DC invites you to a day of celebration and potluck lunch with international artist, InterPlay leader and peace-builder Masankho Banda to celebrate the life of Martin Luther King. Bring all of yourself -- head, heart, and spirit. Using the easy, fun, and life affirming forms of InterPlay, we will create songs, dances, and stories as we claim our dreams and visions for the new year. Anyone can participate. The Bokamoso youth from South Africa will be joining us for this special occasion
Cost:

a dish to share and a suggested offering of $35 - $50 -- part of proceeds will go to Bokamoso
Registration/Information:

katamoss@gmail.com or 301-681-8860

Leaders

Masankho Banda

Masankho is a multi - disciplinary Performing Artist, Certified InterPlay Leader, Educator and PeaceBuilder. He brings many unique perspectives to his work around the world. He learned the fine arts of storytelling and dance from his Malawian culture spending many long days and nights listening to stories and dancing to music that captivated his mind, shaped his being, nourished his soul and strengthened his spirit. Using performing arts Masankho motivates and inspires people of all ages to work together to bring about peace, social justice and cultural understanding. In 1997, he started UCanDanc? African Healing Arts to bring his passion for dance and storytelling to communities around the world. Masankho has been a Certified InterPlay Leader since 1999.