InterPlay Social Media Bundle
100 InterPlay Images!

A social media bundle created by Marla Durden
$40 (InterPlay receives half of that)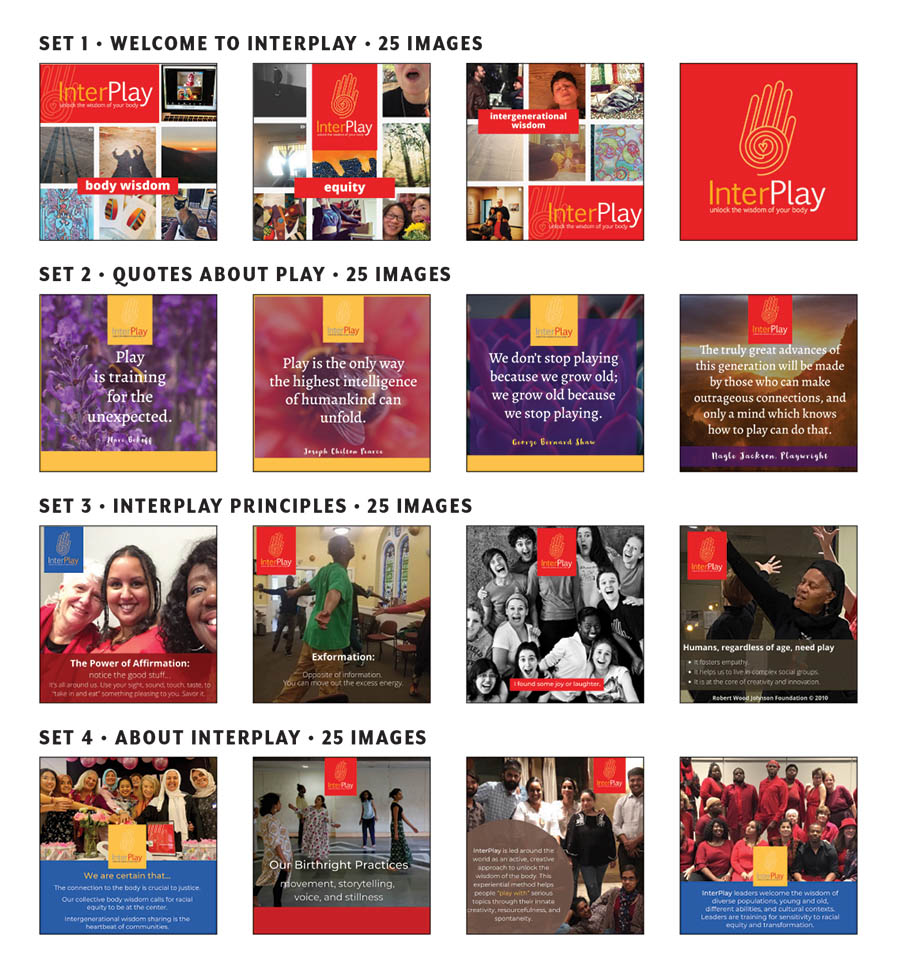 Would you like images to promote InterPlay on social media?
Seattle InterPlayer and Certified Leader Marla Durden has created a set of 100 InterPlay images perfect for use on Instagram and Facebook and for other publicity purposes. You could also use them for your event listings on the InterPlay website.
This social media bundle includes 4 sets of 25 images each:
Welcome to InterPlay
Quotes About Play
InterPlay Principles
About InterPlay
They are lively, attractive, and ready-to-use. Their square format makes them perfect for Instagram and also works well on Facebook.
Special Gift for InterPlay
This InterPlay Social Media Bundle is $40. InterPlay will receive $20 of that, thanks to Marla's generosity.
The Bundle will be sent to you.
We will be separately emailing you the image files and the links to the Canva site where you can alter images. Please note that it could take up to a week to fulfill your order. (That process isn't automatic when you purchase it). We appreciate your patience.
Regional purchases
If you are interested in purchasing the bundle as a region, price will vary based on the number of people who receive access to the Social Media Bundle. Please contact agnotti@interplay.org for details.
Special Bonus! Customizable!
These images are Canva-compatible. Canva is a simple, online design app that you can use to alter the images for your specific use.
Want to use the image but change the text?
Want to change one of the title words?
Want to add your personal info?
Want to add a workshop title?
All of this is possible and more. We will be providing some helpful tips for using Canva as well if you are unfamiliar with this helpful tool.
You will receive zip files of the 100 images in png format, plus links to the customizable files on Canva. You are free to use the images however you wish.