InterPlay's Giving Wings Circle

Are you inspired by what InterPlay creates in the world?
Has the practice of InterPlay been personally meaningful to you?
Have you witnessed the power of InterPlay in other people's lives?
If any of those are true for you, please consider making a special Giving Wings pledge to help sustain and spread the gifts of InterPlay in the world.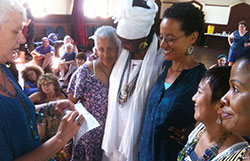 Giving Wings members help InterPlay to:
Fly to new places Allowing us to seed new Life Practice Programs, build InterPlay alliances with communities of color and play with millennial artist-activists.
Dance with new partners Providing InterPlay tools to educators, mental health professionals, Millennials, leaders of color and more.
Create New Resources Developing curricula, programs and tools to support new applications of InterPlay, like "color-wise" InterPlay resources, curricula for Millennials, and new programs for healing professionals.
Sustain the Growing Global Dance of InterPlay Providing the national leadership and administrative support, as programs grow, more leaders are trained, and new initiatives are launched.
Giving Wings members make five-year pledges, at any of the following levels:
Enthusiasts $300/year ($25/mo)
Movers and Shakers $480/year ($40/mo)
Hand to Hand $1000/year ($84/mo)
Heart to Heart $2500/year ($209/mo)
InterPlay Ambassador $5,000/year
Global Visionary $10,000/year
Giving Wings Circle Members
Laurie Adams
Pam Altaffer
Kate & Billy Amoss
Amy & Jim Angel
Lisa Applegate
Johannas Asmussen
Nancy Banman & Stan Scott
Heather & Mooraly Baradan
Betsey Beckman & Charlie Bonmarito
David Bentley
Kelsey Blackwell
Heidi Blythe
Bobbie & Barry Bolden
Anita Bondi
Sharie & Paul Bowman
Peter Buck
Lucy Bunch
Ruba Byrd
Sarah Carlson
Robin Carnes
Andrew Chen
Mary Susan Chen
Sheila Collins & Richard Citrin
Stephen Condit
Joyce & Dave Copenhagen
Agnotti Cowie
Theresa Cunningham
Blaize D'Angio
Paul Dannhauser
Joyce & Jeff Davis
Maureen & Marshall Davis
Jennifer Denning & Lachlan Brown
Nancy Donald
Coletta & Bob Eichenberger
Olaf Elander & Jaime Theobald
James Elander
Shanti Elliott
Aviva Enoch
Janice Eng
Deborah Flynn
Joy & Jim Fry
Carol Anne Fusco & Moose Fullmer
Ruth Garwood
Christine & Joe Gautreaux
John & Sally Glick
Annie Goglia
Ginny Going & Tom Henderson
June Goudey & Ann Feaver
Krista Gemmell & Brad Harris
Karen & Richard Hatch
Marcia & Brian Heath
Kathleen Hering
Brian Herring
Hidden Monastery Dance Chapel
Sally Hussey
Katie Hymans & Mo Kashmiri
Hanneke Jansen
AJ Johnston
Janet Jones
Krystyna Jurzikowski
C.C. King & Thomas Tarpey
Carmen Kingsley
Coran Klaver
Eefje Kolkman
Spruce Krause
Lisa & Gordon Laing
Debbie Lane
Amos Lans
Mary Ellen Lewis
Rebecca Lindholm
Cornelia "Kip" Lee
Al Lingo, Jr.
Sybil & Andy MacBeth
Meg MacLeod
David & Penny Mann
Jori Martinez-Woods
Wai-Chin & John Matsuoka
Maryellen May
Billie Mazzei
Donna Mazzola
Terry McCarthy & Laurece West
Toni McClendon
Annlee McGurk
Julia McKay
Judy Mercier
Laura Migas
TraceyJoy Miller
Hannah Mitchell
Monisha Mittal
Susanne Mulcahy & Jan Raissle
Anne Mulvey
Deanna Murray
Bet Muth
Randy Newswanger
Greg Newswanger & Juji Woodring
Janie Oakes & Joa Datillo
Marianne & Laurence Paull
Mike Perz
Kristine Peterson & Steven Schmidt
Leroy Petunia
Louise Petrasek & Liz Lang
Nancy Pfaltzgraf & Tom Zoelzer
Stephanie Pile
Harriet Platts & Fred Davis
Patricia Plude & Steve Kusmer
Lucia Poole
Marianne Poppas
Phil Porter
Stephanie Pile
Ron Prieve
Andy & David Pritchard
Sheri Prud'homme
Soyinka Rahim
Bea & Steve Rashid
Diane Rawlinson
Marci Rau
Daniel Rosenfield
Anika "Pippen" Roth
Judith Reichsman
Carolyn Renée
Cassandra Sagan & Bruce Morris
Beth Sarver
Linda Schlabach & Dana Miller
Doertlis Schultze-Allen
Jane Siarny
Anne Sigler & George Muedeking
Amy Smith
Marcia Smith-Wood
Judy Shook & Peter Barrett
Mary Spike
Lorrie Streifel
Celia Swanson
Sonya Sukalski
Aarthi Tejuja
Coke Tani & Kathryn Cabunoc
Kathy Tobias
Nancy Tondy
Diana Trotter
Connie Pwll & Ken Tyler
Angela Urata
Judith Valerie
Beverly Voss
Lisa Ward
Nancy Ward
Devi Wetterer
Barbra Wiener
Cynthia & Stephen Winton-Henry
Yura Yasui
Lucy Young