Body Wisdom for Sensitives
Your Gifted, Glorious, Sensitive Body
How to Make Sense of Your Capacities and Limits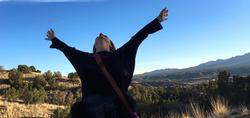 Cynthia Gatherings, ONLINE
Tuesday, October, 19 10:0-11:30 am pst, OR. November 4, 2-3:30 pm
Are you a Gifted and Sensitive Body? Know someone who is? We often feel like misfits, have abilities that some call weird, get "diagnosed" for being both too big and too small, and struggle with balancing energy.
In this 90 minute training we shift from labeling people as overly sensitive to getting recognized as members of the "One-In-Five" Club, Gifted, Sensitive and potentially Body Wise People.
Incorporating tools from InterPlay, Cynthia shares strategies that make sensitivity understandable, more manageable and fun. A highlight is the introduction to the 12 initiations that Cynthia found to help sensitives create a Glorious Life using the Self-Care Playbook for Artists, Mystics, Activists and Sensitive Leaders. This is availble with the Course she teaches each January, The Art of Ensoulment.
Meet on zoom or view the recording at your convenience.
Registrants receive Cynthia's 24 page Module,
Credentialed as Sensitives: How to Honor Gifted and Sensitive People. It covers

• What are Your Sensitivity Credentials?
• You're Not Sick, You're Sensitive! Recognizing the 1-in-5
• How to Make Sensitivity More Fun
• Playing with Initiations
• Initiated by the Nature of Life
• Initiation Inventories for One-In-Fivers
• How You Are Credentialed to Serve



This offering is through Cynthia Winton-Henry, not Body Wisdom. Learn more about Cynthia's offerings at cynthiawinton-henry.com
Cost:

Workshop, recording and pdf $25, reduced rates available. Email Cynthia@interplay.org