Find your flow, ride that wave
Untensive
Edinburgh Untensive
Masankho Banda
,
Mairi Campbell
,
Meg MacLeod
,
Bernhard Staudt
, and
Annegret Zander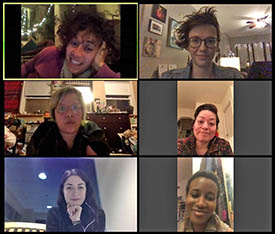 Edinburgh, United Kingdom
Friday, Oct 9, 6pm - 9pm, Saturday Oct 10, 10am - 9pm, Sunday Oct 11, 9:30am - 2pm
This is a weekend immersion in InterPlay, a system that offers easy entry into five core ways of expression: movement, voice, language, stillness and social connection. Step by step, we'll offer simple forms and frameworks to facilitate play, release and connection, helping individuals and communities tap into their resources and resilience. You'll discover a tool kit that supports teaching, performing, community building, health and well-being. This method also enriches personal artistic practice. "I find a river inside me with InterPlay" CL More here
here.
Cost:

£120
Registration/Information: