See No Stranger
a play-full introduction to Valerie Kaur's Revolutionary Love Compass
CC King
and
Wai-Chin Matsuoka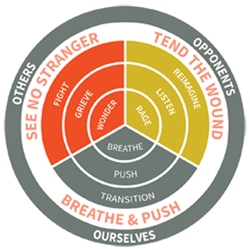 Online, ONLINE
May 12 & 26; Wednesday: 4:30-6pm PT; 6:30-8PM CT; 7:30-9PM ET
In this time of rage and social/racial upheaval, CC & Wai-Chin introduce a counter-intuitive approach from Valarie Kaur, the author of See No Stranger - A Memoir & Manifesto of Revolutionary Love.

"The Revolutionary Love Project envisions a world where love is a public ethic and shared practice in our lives and politics. We generate stories, tools, and thoughtful leadership to equip people to practice the ethic of love in the fight for social justice."

Valarie Kaur believes that "Love is a form of sweet labor: fierce, bloody, imperfect, and life giving—a choice we make over and over again... "Revolutionary love" is the choice to enter into labor for others, for our opponents, and for ourselves in order to transform the world... It is not a formal code or prescription but an orientation to life that is personal and political, rooted in joy."

We'll introduce the "Revolutionary Love" compass in two 90-min sessions. Our hope is to launch a 9-month program where community/affinity groups can read the book together and engage in the practice of laboring for others, for our opponents and for ourselves in order to transform the world.

You do not need to have read the book to join us.

Other dates will be available if the above dates don't work for you. If you are interested to host this pilot at your regular InterPlay groups, please contact Wai-Chin Matsuoka @ TheRestinPlace@Ymail.com
Cost:

Donations of $5-15 are welcomed but not required; ask about PayPal or Venmo
Registration/Information:

Wai-Chin @ TheRestingPlace@Ymail.com OR CC @ ccking.interplay@gmail.com

Leaders

CC King

CC King is a certified InterPlay Leader and trainer, Boston-area coordinator and a memory play specialist. She has been practicing the joyous unfolding of Interplay for over 20 years. CC is an expressive therapist, visual artist, teacher and community activist. As the co-founder of a local arts and environment program, she facilitates workshops in organic sculpture and organizes public performance. Play with elders and Memory Cafes are a special interest, as are cancer support and racial healing & transformation. Her background includes nonprofit management, art and family therapy, trauma-informed InterPlay and a life-long commitment to finding sustenance, creative activism, and joy in the natural world.

Wai-Chin Matsuoka

Wai-Chin is Singaporean Chinese, who was transplanted to the U.S.A. 35 years ago when she came to do her graduate studies, and met her American-Japanese husband.

She encountered InterPlay in 2012 when Cathy Ann Beaty was moderating the Spiritual Directors International Conference. Totally amazed by the impact of a hand-blessing, Wai-Chin found Jane Siarny in Geneva, IL and was attending classes on and off for several years before taking the Secrets retreat and the Life Practice program in 2018. And even before the end of the Life Practice program, attended the Secrets of Leading in Oct 2018, and completed her requirements in Oct 2020!

She describes herself as a

manifestation of Divine Love

, and she embodies

Hospitality

that welcomes all,

Gentleness

that comforts,

Truth that heals and

Compassion

that equips, in her life and in service of all.

As a spiritual midwife, she companions others on their spiritual path of transformation. As a dancing healer, she facilitates healing through experiential encounters with the Divine Physician and dances on behalf of their wounds and grief, and desires and hopes for wholeness. As a lavish host to the Divine Banquet of Love, Wai-Chin facilitates Soul-Tending Retreats that awaken your desire for deeper intimacy with God, in the same way hors d'oeures whet the appetite for a banquet.