WONDERING HOW TO SUSTAIN A LIFE PRACTICE THAT PROMOTE SOCIAL TRANSFORMATION?
Intro to Revolutionary Love Compass by Valarie Kaur [July 10 & August 14] -2nd Saturdays InterPlay (Atlanta.GA)
Using InterPlay Forms to Introduce A Counter-Intuitive Approach to Social Transformation, Making Love a Public Ethic.
Jennifer Denning
and
Wai-Chin Matsuoka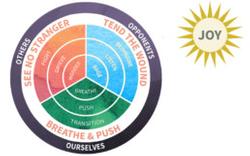 Online, ONLINE
July 10th & August 14th; 2nd Saturdays @ 7 - 8:30am PT/ 9 - 10:30am CT/ 10 - 11:30am ET;
The Revolutionary Love Compass
In this time of rage and social/racial upheaval, Jennifer and Wai-Chin will use InterPlay forms and Valarie's Kaur's Revolutionary Love Compass to introduce a counter-intuitive approach to transforming the world, and making Love a public ethic.
Valarie Kaur, the author of See No Stranger - A Memoir & Manifesto of Revolutionary Love "envisions a world where love is a public ethic and shared practice in our lives and politics. We generate stories, tools, and thoughtful leadership to equip people to practice the ethic of love in the fight for social justice."
Valarie Kaur believes that "Love is a form of sweet labor: fierce, bloody, imperfect, and life giving—a choice we make over and over again. Love can be taught, modeled, and practiced. . . . "Revolutionary love" is the choice to enter into labor for others, for our opponents, and for ourselves in order to transform the world around us. It is not a formal code or prescription but an orientation to life that is personal and political, rooted in joy." (Kaur, 2020, p. 310)
This pilot program is to introduce the "Revolutionary Love Compass" in two 90-min sessions. Our hope is to launch a program in the fall where community/affinity groups can read the book together and engage in the practice of laboring for others, for our opponents and for ourselves in order to transform the world.
You do not need to have read the book to join us. Attending both sessions will be ideal but not required. In Session1, we will explore the definition of love in our personal experiences and the definition of Revolutionary Love from Valarie Kaur's perspective. In Session 2, we will explore very briefly the components of the Revolutionary Love Compass.
Venue: Online; Zoom link will be sent to you once you are registered at Eventbrite, via an Order Confirmation Email.
More: Check "Online Events" at www.InterPlay.org for other dates & times. If you are interested in hosting this pilot at your regular InterPlay groups, please contact Wai-Chin Matsuoka @ TheRestingPlace@Ymail.com.
Cost: Donations are welcomed but not required. In order to register, there is a minimum of $1 required by Eventbrite. Donations will go to Scholarships for InterPlay Black, Indigenous, People of Color and Millennial Leaders;
Register @ Eventbrite Here.
Cost:

Donations to Scholarships for InterPlay BIPOC & Millennial Leaders
Registration/Information:

Wai-Chin Matsuoka @ TheRestingPlace@Ymail.com

Leaders

Jennifer Denning

Jennifer is keenly interested in using the InterPlay forms to promote racial justice and healing and collaborates in developing and leading the worskhops Sankofa Communities and Using Body Wisdom to Build Just Communities. She directs InterPlay Atlanta's performance group, Soulprint Players. She launched InterPlay Atlanta's programming with women in prison and teaches regularly at Trinity House and The Friendship Center. Jennifer has also worked as a professional actor and currently teaches and directs with Synchronicity Theatre's "Playmaking For Girls" program. Her work has long centered on the intersection of creativity and spirituality. Jennifer serves on the Body Wisdom Board of Directors and InterPlay's Racial Equity and Transformation committee.

Wai-Chin Matsuoka

Wai-Chin is Singaporean Chinese, who was transplanted to the U.S.A. 35 years ago when she came to do her graduate studies, and met her American-Japanese husband.

She encountered InterPlay in 2012 when Cathy Ann Beaty was moderating the Spiritual Directors International Conference. Totally amazed by the impact of a hand-blessing, Wai-Chin found Jane Siarny in Geneva, IL and was attending classes on and off for several years before taking the Secrets retreat and the Life Practice program in 2018. And even before the end of the Life Practice program, attended the Secrets of Leading in Oct 2018, and completed her requirements in Oct 2020!

She describes herself as a

manifestation of Divine Love

, and she embodies

Hospitality

that welcomes all,

Gentleness

that comforts,

Truth that heals and

Compassion

that equips, in her life and in service of all.

As a spiritual midwife, she companions others on their spiritual path of transformation. As a dancing healer, she facilitates healing through experiential encounters with the Divine Physician and dances on behalf of their wounds and grief, and desires and hopes for wholeness. As a lavish host to the Divine Banquet of Love, Wai-Chin facilitates Soul-Tending Retreats that awaken your desire for deeper intimacy with God, in the same way hors d'oeures whet the appetite for a banquet.