What is possible when we make room for what wants to be seen?
InterPlaying with Shadow
Tap into the power of the shadow / the unseen
Ade Anifowose
and
Meg MacLeod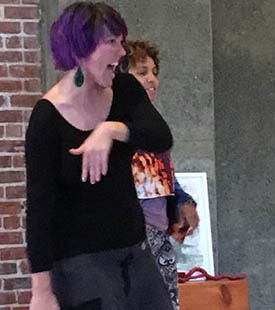 ONLINE
Saturday, November 20, 9.30a-11a UK; 10.30a-12p Central Europe; 15.00 India. 20.00 Adelaide
Are events at home or in the world casting shadows in your life? They have been in mine, especially the last several months.
We've cooked up this special workshop, to dance or sing those shadows out, or to let them speak with words or gibberish.

When I've taken time to make room for what wants to be seen and heard and to rest in stillness or whatever is there, I've always discovered treasures. We are excited to offer this within InterPlay's affirming community. We'll use simple forms to tap into the longings and power of those darn shadows instead of being held hostage by them!

What is possible when we make room for what wants to be seen?
Cost:

€15, $15 or £15
Registration/Information:

For the zoom link and payment info, contact Meg MacLeod - breathe4ease AT outlook.com

Leaders

Ade Anifowose

Ade is a Certified InterPlay Leader, Mindset Coach. Intuitive Healer and Podcaster. For over 25 years, Ade has devoted his life to being both a student and teacher of ancient wisdom. He is known for his optimism and ability to put people at ease while tapping into the inner wisdom of the soul. His unique approach opens the minds of his clients so they can more easily and effectively approach life head-on and find the help and answers they seek.

Ade is a lover of humanity who is passionate about creating outstanding new and unique gifts of healing for the world. Grounded in universal principles and healing arts, he uses his podcast, interactive playshops, storytelling, the arts, sacred drumming, and social media, to supports people in shifting their consciousness. Ade has a deep passion for helping people to connect with their unique sense of self and is dedicated to inspiring people to live from the confidence of their truest self.

Meg MacLeod


Meg MacLeod has been leading InterPlay classes and workshops since 1998: in the USA, the Netherlands, Scotland, Germany and Switzerland, in on-going classes, school teachers trainings, camp counselors, university dance and drama students, and at birthdays community celebrations, and conferences. She has directed and performed in numerous choreographed and InterPlay (improvisational) concerts.

Earlier years.
As a school teacher she regularly directed performances starring the children or brought her musician friends to her school to perform for the kids. In the mid- late-80s as an artist-in-residence, she developed and solo-performed five interactive concerts using music, stories and dance/movement to teach social studies and ecology in 24 US states, Germany and the UK.

As a community activist for Walkable Communities in the 90s she produced several highly successful conferences and two organizations until becoming physically and emotionally 'burned-out'. She credits recovery of her senses and health to InterPlay, the Work of Byron Katie and the 12-step Workaholics Anonymous Program, and loves to share the playfulness and trust in her intuition and in life she has recovered.
Current passions are song-writing, InterPlaying, working the 12-steps and becoming fluent in the Dutch language.