InterPlay Networking Party
Getting Paid to Play!
Marla Durden
and
Christine Gautreaux, MSW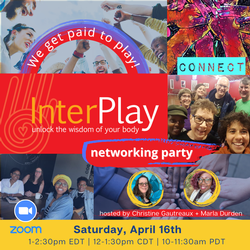 ONLINE
Saturday, June 18th, 10 AM - 11:30 AM PT
Cost:

FREE Sponsored by Body Wisdom
Registration/Information:

Register by filling out the Google Form in the Event listing & we'll send out the zoom link a couple of days before the event

Leaders

Marla Durden

Marla came to InterPlay at the end of 2016 and has never stopped playing. She immediately began performing and was certified as a leader in May 2021. Marla is an alchemist, artist, energy shaman and coach who uses her gifts to create experiences that support personal empowerment, healing and transformation.

Christine Gautreaux, MSW

Christine (she/her) is dedicated to the pursuit of play, joy, art & social justice. Christine's superpowers include connecting people, helping folks manifest their dreams, standing up against injustice and using art to make a difference in the world.

She currently uses performance art, movement, poetry, storytelling and Interplay to address issues of oppression with women who are incarcerated, people living with severe and persistent mental illness and homelessness. She also works with activists and artists to maintain balance and self-care during these intense times we find ourselves living.

Pivoting with the times Christine has been called an expert on Zoom and utilizes this online platform to facilitate connection and ease in an online, interactive learning environment.

Christine Gautreaux holds a Bachelor's and Master's Degree in Social Work. She has professional experience with successful grant writing, community organizing and social media marketing. Christine is a life coach for caregivers who are burnt out and ready to take back their own life and make it delightful again. She is the co-author of Stillpoint: A Caregivers Playbook to find ease and to take a deep breath and reclaim joy.