Supportive and interactive session for educators with rotating leaders
InterPlay in Education Monthly Online Gathering led by Leah Mann
December: InterPlay through A Kinesthetic Lens
Leah Mann
and
Diane Rawlinson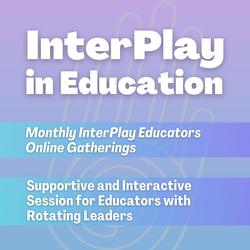 ONLINE
Saturday December 9th. 9:00 am PST
Do you teach in some way?
Want to gather with others who use InterPlay practices for the self, and in learning communities?
Join our Monthly Online Gatherings with rotating leaders to build the InterPlay in Education momentum.
We all need more PLAY. All levels of experience (and those new to InterPlay) are encouraged to join us.
Each leader will share some of their "tricks of the trade" with plenty of time to share together.
The fabulous, Leah Mann will share her wisdom and practice with time for connection. Open to InterPlayers, Educators, and anyone interested in helping the vision grow.
Diane Rawlinson
, Facilitator.
Meeting ID: 269 158 8559
Dates, Times, and leaders of the monthly groups will vary.
Fill out the google survey to get onto our direct email list!
Suggested Donation of $10-$20 to the Cynthia Winton Henry Fund.
Donations thru PayPal may be sent to office@ interplay.org.
Cost:

$10-$20 donation to the Cynthia Winton Henry Fund
Registration/Information:

No preregistration. Join us!

Leaders

Leah Mann

Leah Mann (she, they) is a dancer, choreographer, somatic practitioner, and arts educator, focusing on embodied social justice. They are Co-Director of Lelavision", a performance and production company based on Vashon Island, WA, that combines kinetic sculpture, dance and music. Leah is Artistic Director Emeritus of Moving in the Spirit, a youth mentorship, urban outreach program, utilizing the praxis of dance to develop life skills (Atlanta, GA). Through their kinetic learning style, they work to cultivate community through the common denominators of the human experience.   Most recently they have been facilitating movement, music, and play with medically fragile youth, Muslim immigrants, and pregnant people in recovery. They are in an ongoing science-art collaboration with Morehouse College / Andrew Young Center for Global Leadership focusing on wellness and healthy ecosystems micro to macro.  Leah has been InterPlaying since its inception!!

Diane Rawlinson

Diane holds an undergraduate degree in Dance Education from Ohio State and an MFA in performance and choreography from the University of Wisconsin, Madison. She has served on the dance faculties at the University of Akron, University of Wisconsin-Stevens Point, and Northwestern University. Currently Diane is on the faculty at Loyola University of Chicago coordinating the Masters In Education/Dance Endorsement Partnership with the Chicago Public Schools. From 1991-2021 she taught dance, fine arts, and yoga at Wheeling High School in Illinois and uses InterPlay within the curriculum. Diane has introduced thousands of teens to InterPlay both at Wheeling and in workshop settings for dancers, poets, and theatre students in at state and national level conferences. She has also presented numerous workshops for educators on local and national levels. She is proud to be one of the first leaders certified by Phil and Cynthia...way back when... Diane is a wife, mother (of two adult sons), and was an active volunteer on Chicago's Dance for Life. She was a contributing editor/writer for Dance Spirit and Dance Teacher magazines (NYC) since from 1997-2019 with over 100 articles published. In 2002 she was named the NDA (National Dance Association) Midwest Dance Educator, in 2007 she was named University of Wisconsin Madison School of Education Distinguished Alumni Award receipient and credits InterPlay as the unique part of her work in the schools. In 2014 Diane was awarded Chicago's Ruth Page Award for her work as an advocate, mentor and educator. Diane is currently facilitating the InterPlay in Education initiative.