2022 Yes, And... Body Wisdom Playathon
Twelve weeks of InterPlay introductory classes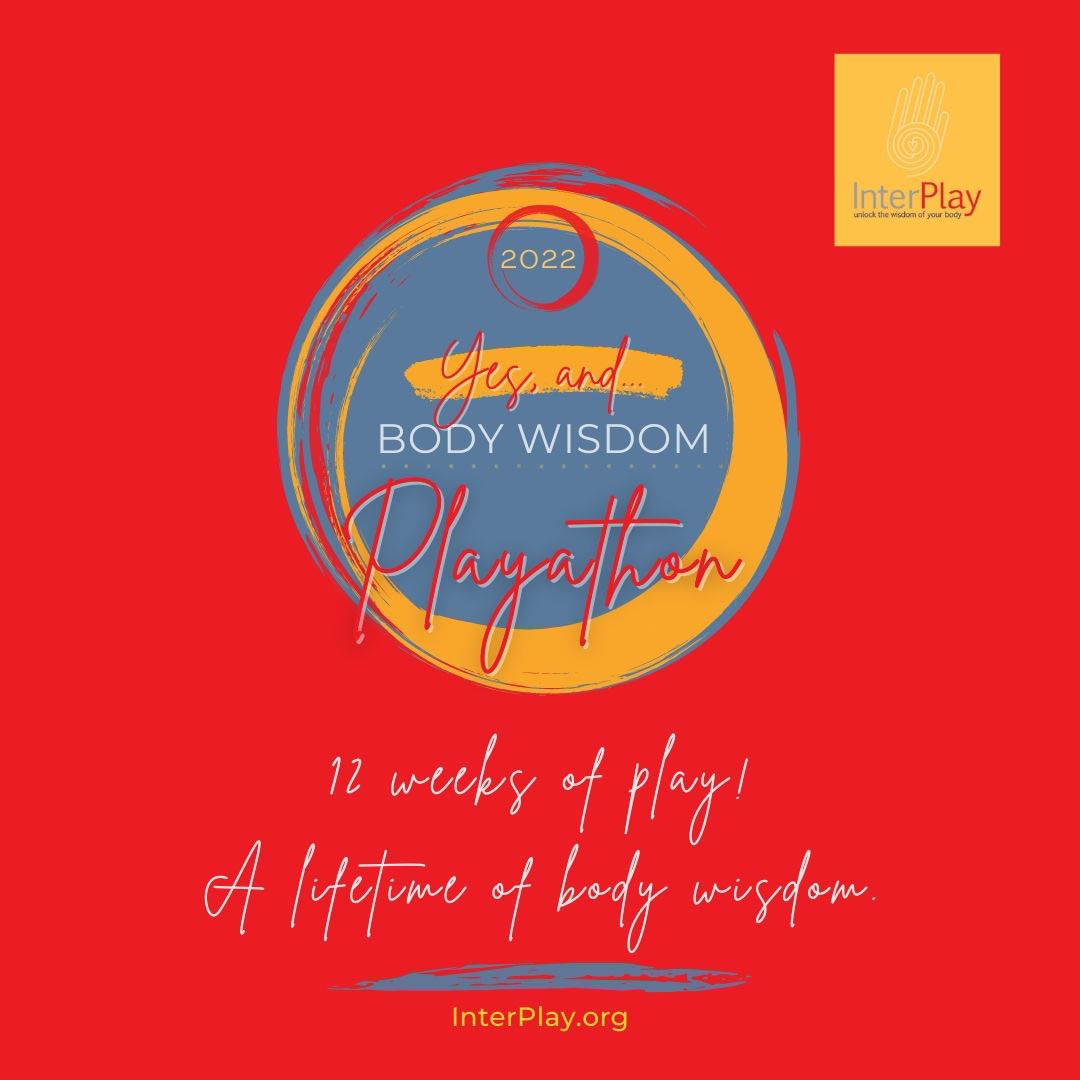 Are you a recovering serious person?
Laugh, play, move your body, shake out that overwhelming stuck-ness with InterPlay. There's movement and stories, silence and song, a practice deeply rooted in playfulness… opening up possibilities for authentic connections, release and lightness. Learn how to unlock the wisdom of your body.
Interested to know what InterPlay is all about? Or have you been waiting to introduce a friend to InterPlay? Welcome to the Playathon! We're offering a range of online introductory InterPlay classes all week for the next three months. There are so many classes to choose from, all tailored to help you try out and experience InterPlay at your own pace! It is our mission to bring ease and flow to as many people as possible, wherever they may be. And we have our best people on it!
Each class will include a variety of elements of the InterPlay philosophy and practice. By taking a few of them you begin to experience the fullness that can be available to you.
How to join the Playathon?
Check out this week's menu of classes in the schedule below and choose which class or classes you want to join. The zoom links are next to the class listed. Your very first class is on us! Click here to register or pay below if you want to come back for more. We would love to have you no matter what your financial situation is right now, so we have a range of payment options starting from $5 to $15. If you can, we invite you to pay a little extra to support someone else's participation.
Then what? Click on the zoom link and come on in :-)
Class Payments
You can use the payment buttons here to pay for any Playathon classes.
Questions?
The 2022 Playathon Schedule
Each class is offered every week! Your first class is FREE! Zoom links in the schedule below.
Classes in List Form
Discovering the Heart of Connection: Building Emotional Resilience through Play
Wednesdays |  8:45-10:15 am PST (January 19th -March 25th)
*Shari Bowman + Hazel Lobo | Seattle, WA + Mumbai, INDIA
InterPlay Zoomshop w/ Lisa Laing
Mondays | 2:30-3:30 pm EST
*Lisa Laing | Ivorytown, CT
Vitamin InterPlay
30 MINUTES  Monday, Tuesday, Wednesday | 8-8:30 am PST
*Shari Bowman, Lucia Young and (Leaders in Training)
PoPUpZ (Power of Play Upliftment Portal on Zoom)
30 MINUTES  Monday, Wednesday, Friday | 8:30-9 am EST
*Carolyn Renee Morris, Jennifer Denning and Christine Gautreaux | Atlanta, GA
Radical Self-Care & Community Care
Tuesdays | 11:30 am - 12.30 pm EST
*Sheila Collins + Christine Gautreaux | Atlanta, GA
Soul Food InterPlay
Thursdays | 9-10:00 am
*Marla Durden | Seattle, WA
Friday Night InterPlay Jam
Fridays | 7-8:30 pm EST
*Laurece West + Terry McCarthy | Durham, NC
Live Online InterPlay
Fridays | 10:30-11:30am  EST
*Sheila K. Collins | Pittsburg, PA
Playful Saturdays
Saturdays | 7 pm INDIA TIME, 8:30 am PST
*Vibhuti Aggarwal + Wishall Singh | Udaipur + Uttrakhand, INDIA
Classes Coming Soon
Second Saturday InterPlay
Second Saturday of each month (starts 12th February) | 10-11:30 am EST
*Jennifer Denning | Atlanta, GA
Playing with/in Diverse Embodiments
Saturdays (starts 29th January) | 11:30 am - 12:30 pm CST
*Rachel Herzog, Chris Ng + Gwynneth Van Laven