2023 Yes, and… Body Wisdom Play-a-thon!
May 15 to June 15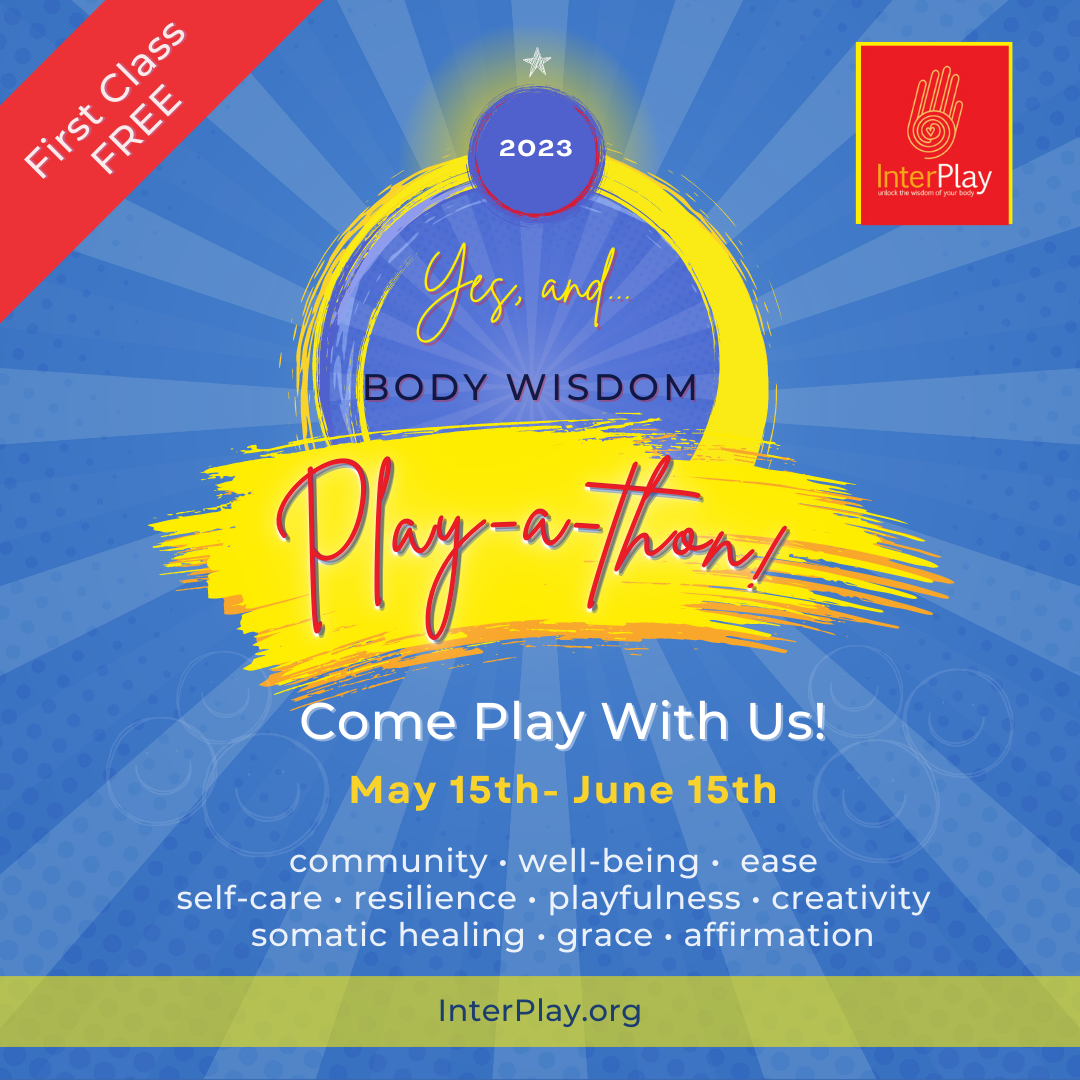 -Are you ready to unlock the power of your body wisdom?
-Life got a little too serious lately?
-Ready to find more playful ease that you can access anytime?
INTERPLAYER… have you been waiting to introduce a friend to InterPlay?
Come laugh, play, move your body and explore your body wisdom with InterPlay.
Welcome to the Playathon! We're offering a range of online InterPlay classes all week for the next four weeks. There are so many classes to choose from, all tailored to help you try out and experience the wide world of Interplay at your own pace! It is our mission to bring ease and flow to as many people as possible, wherever they may be. There's movement and stories, silence and song, a practice deeply rooted in playfulness… opening up possibilities for authentic connections, release and lightness.
How to join the Playathon?
Your very first class is on us! You'll find the 2023 Playathon Schedule and a link to payment/registration page below. We would love to have you no matter what your financial situation is right now, so we have a range of payment options starting from $5 to $15. If you can, we invite you to pay a little extra to support someone else's participation.
Come Play With Us!
Sign Up for the Play-a-thon to receive weekly updates and class information!
Class Payments
You can use the payment buttons here to pay for any Playathon classes.
Questions?
The 2023 Playathon Schedule
Each class is offered every week! Your first class is FREE!
Check on the Padlet below to find the zoom link of your choice and come on in :-)
SUNDAY
Exploring The Gift of Stillness
Toni McClendon (Lois) + Loeka Wiltz
Sunday, May 28th | 4:00 - 5:30 pm EST
Pittsburgh, PA + San Antonio, TX
Men's Across the Continent Zoom InterPlay
Olaf Elander + Mike Perz
Sunday, May 21st | 7 - 8:15 pm (EDT)
Naples, FL
InterPlay White Awake: Racial Inheritances and Reassembled Legacies
Coran Klaver + Karen Hatch
Sunday, June 4th | 2-3:30PM EST
Powhatan lands, VA
MONDAY
Big Body Songs & Small Body Ditties
Trish Watts + Simon Cox
Monday, May 22nd | 7-8:15PM AEST
Sydney, Australia
Dancing on Behalf of: Welcome to the InterPlayful Dance Chapels
Cynthia Winton-Henry
Monday, June 12th | 4:30-5:30 PST Fair Oaks, CA
Vitamin InterPlay
Lucy Young, Sharie Bowman
Monday, May 15, 22 & 29 + June 5 & 12 | 8am - 8:30am PT
Tucson, AZ
Introduction to Revolutionary Love Compass
Wai-Chin Matsuoka & Karen Hatch
Monday, May 15, 22 & June 12 | 6PM CT
Chicago, IL
TUESDAY
Vitamin InterPlay
Lucy Young, Sharie Bowman & Other Leaders
Tuesday, May 16, 23, 30 + June 6 & 13 | 8am - 8:30am PT
Seattle, WA
Soul Food InterPlay
Marla Durden
Tuesday, May 23, 30 + June 6, 13 | 9-10AM PST
Seattle, WA
Around the World with InterPlay
Jane Siarny & Olaf Elander
Tuesday, May 16th | 9-10:15 am
Chicago, IL
Brave Spaces through Play
Trish Watts + Hazel Lobo
Tuesday, May 23 | 7-8:15PM AEST
Sydney, Australia
Sacramento/Davis InterPlay
Katie Hymans + Bobbie Bolden
<em>Tuesday, May 16 | 7:00-8:15 pm Eastern US
Sacramento/Davis, CA
Radical Self & Community Care
Christine Gautreaux + Sheila K. Collins
Tuesdays, May 16, 23, 30 + June 6, 13 | 11:30-12:30 AM ET
InterPlay Atlanta
Mischief in the mix
Ruth Garwood, Donna Mazzola, Eef Kolkman & Joan Greenwood
Tuesday, May 16 | 7:00-8:15PM EST
Cleveland OH
Shhh... It's a Secret! Embodiment skills for Helping Professionals
Marla Durden, Christine Gautreaux + Leroy Petunia
Tuesday, May 23rd | 4-5:15pm PST | 7-8:15 EST
Seattle,WA + Atlanta, WA + Asheville, NC
Trish Watts + Simon Cox
Big Body Songs & Small Body Ditties
Tuesday, May 23rd | 9:30-10:15AM AEST
Sydney, Australia
Playful Regeneration
Sophie Spiral
Tuesday, May 30th | 7:30-9pm UK
Berlin, Germany
WEDNESDAY
Introduction to Revolutionary Love Compass
Wai-Chin Matsuoka & Karen Hatch
Wednesday, May 17th | 6PM CT
Chicago, IL
Playful Ease and Joyful Flow!
Eileen Khouw, Randy Newswanger & Ruth Garwood
Wednesday, June 7 & 14 | 1pm PST AEST/ EDT/ EDT
Central Coast , Australia
Vitamin InterPlay
Lucy Young, Sharie Bowman & Other Leaders
Wednesday, May 17, 24 , 31 + June 7 & 14 | 8am - 8:30am PT
Tucson, AZ
{HIP HOP Dance Chapel} Dancing on Behalf of: Welcome to the InterPlayful Dance Chapels
Marla Durden
Wednesday, May 31st | 9-10AM PST
Seattle,WA
Embodied Journaling
Lucy Young
Wednesday, May 17 & 24 | 9am -10:15am PT
Tucson, AZ
{The Dancing Hand} Dancing on Behalf of: Welcome to the InterPlayful Dance Chapels
Ruth Schowalter
Wednesday, May 24th | 7:30 - 8:30PM EDT
Atlanta, GA
Free-Again with Me-Again
Megan Sims
Wednesday, June 14th | 8-9PM EST
Ann Arbor, MI
Whale Wisdom for Weighty Times
C.C. King
Wednesday, May 31 & June 7 | 5PM EST
Northeastern, US
Melanated Play
Carolyn Renee Morris
Wednesday, May 24 & 31 + June 7 & 14 | 7PM ET
InterPlay Atlanta
THURSDAY
The Way of Wonder: Moving with your Body Voice
Monisha Mittal
Thursday, June 8th | 6PM
Washington, DC
Mark Making for the Timid Yearning Artist Within
Ruth Schowalter
Thursday, June 1st | 9 - 10:30AM EDT
Atlanta, GA
Dancing on Behalf of: Welcome to the InterPlayful Dance Chapels
Neesha Noronha
Thursday, June 1st | 7:30AM IST
Karnataka, South India
Dancing on Behalf of: Welcome to the InterPlayful Dance Chapels
Nancy Zoelzer Pfaltzgraf + Jane Siarny
Thursday, June 8th | 9:30AM - 10:30PM Pacific Time
Illinois + Florida
Queer InterPlay
Leroy Petunia + Randy Newswanger
Thursday, May 18th | 7pm EST
Asheville, NC
Dancing on Behalf of: Welcome to the InterPlayful Dance Chapels
Jane Siarny
Thursday, May 18th | 9:30AM PT
Chicago, IL
FRIDAY
Friday InterPlay Class
Sheila Collins
Fridays, May 19 & 26 + June 2 & 9 | 10AM EST
Pittsburgh, PA
Online Global Sustaining International Sisters (SIS)
Ruth Schowalter + Canan Arikan & Gwynneth VanLaven
Friday, May 19 | 7:30 to 8:45 PM EDT
Atlanta, GA
Friday Night InterPlay Jam!
Laurence West
Friday, May 19 + June 2 & 9 | 6:30 - 8:00 pm ET
Durham, NC
SATURDAY
The Dao of Lazy
Elena Khazanova
Saturday, May 20 | 10am EST
Washington, DC
Portraits of Love, Collage Based Avatars and Dances of Fullness
Leah Mann
Saturday, May 27th | 10:15AM to 12NN PT
Seattle, WA
Play-Feast for the Always-Hungry!
Elena Khazanova
Saturday, May 27th | 12pm EST
Washington, DC
How Does A Hand Dance or A Story Grow?
Spruce Krause + Leora Weitzman
Saturday, May 27 & June 10 | 1:30PM CT
Minneapolis, MN
InterPlay Naples!
Olaf Elander
Saturday, May 20 & May 27 + June 3 & 10 | 7PM EDT
Naples, FL
Sandbox Time (for Overcautious Grown-Ups)
Elena Khazanova
Saturday, June 10th | 10am & 12pm EST
Washington, DC