Celebrate!
International Days of InterPlay
Sat, Oct 19 – Sat, Oct 26, 2019


Parties and events in locations across the country.
InterPlay turns 30 years old!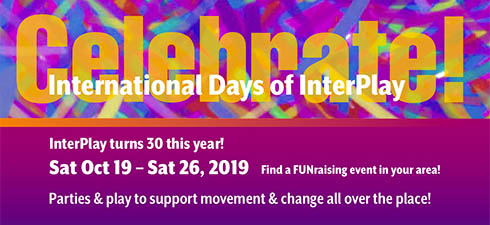 A celebration and fundraiser on behalf of InterPlay
Events will be happening this year all over the place! Check with your regional leaders to see what might be going on in your neighborhood
Between Saturday, October 19, and Saturday October 26, 2019, InterPlayers around the world will be gathering in local groups to celebrate the way that InterPlay is offering hope and possibilities in a world that truly needs it!
We will lift up the amazing ways that InterPlay is embodying life, creativity, community, awareness and hope all over the place—across the US and in other parts of the world. We will honor wonderful leaders both in and around InterPlay communities with "Spirit of InterPlay" awards, hear inspiring stories, invite everyone to contribute and, of course, eat, drink and play. Each location will be celebrating in their own unique way, with food, play, connection, fun and a sneak peak at the new InterPlay video.
Events happening all over!
Watch as events are added here.
Oakland, CA
Playing, celebration and free food.
12 noon to 3 pm • Saturday, Oct. 26
InterPlayce
InterPlayce, 2273 Telegraph Avenue, Oakland, CA 94612
Online listing for this event...
RSVP online so we'll have plenty of food...
Contact the InterPlay office for more info.
Chicago, IL
7–9 pm • Sunday, Oct. 20
Cards Against Humanity Theater
1551 West Homer Street
Chicago, IL 60642

Experience the magic of InterPlay in performance. We will be sharing our stories, movements, and songs created in the moment. InterPlay is celebrating its 30th year, offering body wisdom practices to communities all over the world. The first 5 people will get a door prize.
With light refreshments and BYOB
Reserve your FREE ticket today
Atlanta, GA
Noon – 1:30 pm • Saturday, Oct. 26
St. Luke's Episcopal Church
435 Peachtree St, Atlanta, Georgia 30308
Free parking
InterPlay Atlanta invites you to celebrate 30 years of InterPlay with us! Join us for lunch and an offering from the SoulPrint Players. Find out what InterPlay has been up to locally, nationally and internationally! Meet some of our community collaborators and help us honor this year's "Spirit of Interplay" Awardee Jennifer Denning, the founder of InterPlay Atlanta and director of SoulPrint Players.
We will gather at 12:00 p.m. for lunch and the program will start at 12:30 p.m.
In building on InterPlay's commitment to 2019 marking the 400 years since Enslaved Africans from Angola were forcibly brought to the British colony of Virginia in August 1619, the multicultural feast will focus on African foods throughout the Diaspora. Vegan and Gluten-Free options will be included.
For more information check out InterPlayAtlanta.org
New Delhi, India
We invite you to join us for an Introductory session and in celebrating 30 years of InterPlay!
6:30–8:30 pm • Wednesday, Oct. 23
at Zorba the Buddha, 7, Tropical Drive, Mehruali-Gurgaon Road, Ghitorni, New Delhi, 110030, India
For registration and more details, call +91 9650118376
Cost: Pay-As-You-May
Turku, Finland
The workshop is on Wednesday, Oct 23 at 6-7.30 pm at the Christian Institute in Turku, Lustokatu 7.
Open to all. Come experience some InterPlay and celebrate it's 30th Anniversary!
More info: Outi Ruohola, InterPlay Leader. leikkisa.playful@gmail.com or txt msg +358505201357
Twin Cities, MN
10 am – 3 pm • Saturday, Oct. 26
Springhouse Ministry
610 W. 28th Street (between Lyndale & Garfield Avenues), Minneapolis
What: Fun new and old forms led by local leaders, and a chance for all of us to share space and Play with each other. Bring friends whom you'd like to introduce to InterPlay! Encourage PlayFriends who have fallen away to join us again!
Bring: Food and/or beverages to share for a pot-luck lunch.
Don't forget to bring cash/checkbook so you can bid on the goodies on the silent auction, with many items and fun activities offered. If you are interested in offering an item or adventure to help us raise money for our local community, contact Barb Lager (so she can make signage), or just bring it to the event.
Raleigh, NC
10 am – 2 pm • Saturday, Oct. 19
United Church of Chapel Hill
1321 Martin Luther King Junior Boulevard
Chapel Hill, NC 27514
From Oct. 19-26, InterPlayers around the world will be gathering in local groups to kick off INTERPLAY'S 30TH ANNIVERSARY YEAR! We will lift up the amazing ways that InterPlay is supporting real change across the US and in other parts of the world—inspiring projects with an eye toward peace, equity, community, artfulness, transformation, and the wisdom of the body!
Come join us for our regular Chapel Hill Playgroup on Oct. 19 at 10 am followed by a free lunch and our annual Giving People Wings fundraising event. The Triangle Day of InterPlay will offer an opportunity to meet, mingle and play with other InterPlayers from across the Triangle area and enjoy a delicious meal together. Please register in advance. Thank you!
Seattle, WA
Building Resilience through Improvisation and Play
Sunday, October 27 • 1:00 pm to 3:30 pm
Led by Sharie Bowman, Janice Eng, and TraceyJoy Miller
Community Hall at Phinney Neighborhood Center
6532 Phinney Ave N., Seattle
Celebrate 3O years of InterPlay as an International Movement! Have fun with our beloved InterPlay Seattle Community! Raise funds for InterPlay Scholarships! Finger-Food Potluck!
RSVP to Sharie Bowman at mailto:interplaynorthwest@gmail.com
Portland, OR
Sat, Oct 26, 10 am – noon
Come Celebrate 30 years of InterPlay and Marci twice InterPlay's age!!
Saturday, October 26th from 10 am to Noon for connective play celebration. From noon till 1 pm connective potluck celebration. Come join us in playing with story, movement, voice, and stillness.
West Hills Friends Church
in the community hall
7425 SW 52nd Ave
Portland, OR
Lancaster, PA
Sat, Oct 26, 2019 • 10–11:30 am
For our October monthly InterPlay gathering, we will celebrate International Day of InterPlay. In honor of that, after our InterPlay gathering at Body and Soul, we are inviting folks over to our place for some food to celebrate and hang out. InterPlay is open to everyone—no experience needed. We invite you to explore ways of connecting with yourself and others through movement and sharing experiences. You may experience possibilities for laughter, surprise, ease, fun, connection, and community.
*Intro to InterPlay from 10:00 – 11:30am
Body and Soul Fitness Studio (Parking behind the building)
618 Columbia Ave (entrance on side of building)
Lancaster, PA 17603
*Followed by soup, bread and hanging out noon-ish
113 Coral St (right around the corner)
Lancaster, PA 17603
Suggested donation: $10
To let us know your coming, contact Juji—jujiw67@gmail.com or 410-375-4116. If you forget to register, come anyway!
Des Moines, IA
Sat, Oct 26, 2019 • 11 am – 2 pm
Taco Salad provided; bring side dish, dessert, or beverage to share.
InterPlayers will gather to lift up the amazing ways that InPlay embodies life, creativity, community, awareness and hope all over the place—across the US and in other parts of the world. We will hear inspiring stories, invite everyone to contribute and, of course, eat, drink and play. A new InterPlay video will be shared.
Private Home Party—for details and to RSVP contact mary_ellen_lewis@yahoo.com or 515-556-2431