Celebration, fundraiser + free lunch!
FREE! International Day of InterPlay—SF Bay Area
Celebrating 30 years of InterPlay
Phil Porter
,
Cynthia Winton-Henry
, and
Kelsey Blackwell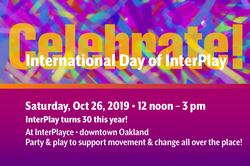 Oakland, CA
Saturday, Oct 26, 2019 • 12 noon – 3 pm
Celebrate!
From
Saturday, October 19-26, 2019
, InterPlayers from around the world will be gathering in local groups to engage in party and play to support movement and change all over the place!
The San Francisco Bay Area InterPlay crowd will gather at InterPlayce from noon until 3:00 pm on Saturday, October 26, 2019, for a free lunch and to play and hear inspiring stories about how InterPlay leaders are embodying life, creativity, community, awareness and hope all over the place—across the US and in other parts of the world.
We will lift up our commitment to Millennial inspiration, bodywise leadership, joyous eldering, and racial equity and transformation. We'll honor some wonderful leaders both in and around InterPlay communities with "Spirit of InterPlay" awards.
This event will be part of a year-long celebration of InterPlay's 30th year! We'll be dreaming about the next thirty.
And yes, we'll invite everyone to contribute and, of course, eat, drink and play.
Come experience the InterPlay movement, at the headwaters of social change, where birthright practices bring us into community and creativity in the best way possible!
Cost:

FREE! (Make sure to register, so we have enough food!)
Registration/Information:

Use the red link above to RSVP or call the Body Wisdom office, so we can prepare enough food! 510/465-2797

Venue
InterPlayce
2273 Telegraph Avenue (at 23rd St.)
Oakland, CA 94612
InterPlayce is the center of the InterPlay universe. The offices for Body Wisdom, Inc. are also located here. The building is at the corner of 23rd and Telegraph, one block north of West Grand. It is just a few blocks from the 19th Street Downtown Oakland BART station, and on several convenient bus lines. On-street parking is always available at night and metered during the day. It is also easily accessible by several of the major freeways.
Click here for a map.
Leaders
Phil Porter
Phil is one of the founders of InterPlay. He is a teacher, performer, writer, and organizer. With Cynthia Winton-Henry he is the co-founder of WING IT! Performance Ensemble, and has written several books, some in collaboration with Cynthia, including Having It All: Body, Mind, Heart & Spirit Together Again at Last and The Slightly Mad Rantings of a Body Intellectual Part One. Phil is particularly interested in the use of InterPlay in organizational life, and believes that InterPlay can be a powerful tool to create communities of diversity and peace.
Cynthia Winton-Henry
Cynthia Winton-Henry, co-founder of InterPlay with Phil Porter, has researched "what the body wants" in the arts, in jails, shelters, slums, hospitals, churches, businesses, classrooms, doctoral programs in theology and the arts, and in multicultural education. She develops somatic curriculums to address racism, leadership for the Earth, and spiritual intelligence with an eye to supporting millennials. A featured speaker on the Body Intelligence Summit and a keynoter at conferences, Cynthia is the author of What the Body Wants, Having It All: Body, Mind, Heart & Spirit Together Again at Last; Dance - A Sacred Art: Discovering the Joy of Movement as Spiritual Practice; and Chasing the Dance of Life: A Faith Journey. Currently writing on Body Wisdom and Social Justice and on "Ensoulment," she coaches leaders seeking spiritual intelligence for our time at cynthiawinton-henry.com.
Kelsey Blackwell
Kelsey Blackwell is a somatic coach, writer, and facilitator committed to fearlessly creating spaces for WoC and women to trust and follow the wisdom of their own bodies so they may powerfully shine their lights in a world that sorely needs this brilliance. Follow her at kelseyblackwell.com.