Hope & Possibilities!
International Day of InterPlay
Saturday, October 27, 2018


Parties and events in locations across the country.
A world-wide celebration of the wisdom of the body!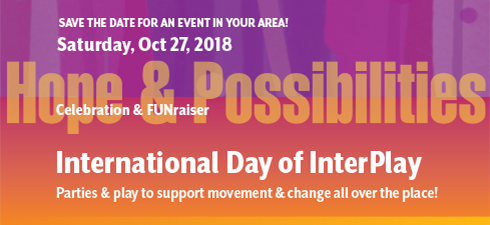 A celebration and fundraiser on behalf of InterPlay
Events will be happening this year all over the place! Check with your regional leaders to see what might be going on in your neighborhood
On Saturday, October 27, 2018, InterPlayers around the world will gather in local groups to celebrate the way that InterPlay is offering hope and possibilities in a world that sorely needs it!
We will lift up the amazing ways that InterPlay is embodying life, creativity, community, awareness and hope all over the place—across the US and in other parts of the world. We will honor wonderful leaders both in and around InterPlay communities with "Spirit of InterPlay" awards, hear inspiring stories, invite everyone to contribute and, of course, eat, drink and play. Each location will be celebrating in their own unique way, with food, play, connection, fun and a sneak peak at the new InterPlay video.
Events happening all over!
Watch as events are added here. Coming soon!
Oakland, CA
Playing, celebration and free food.
10 am to 2 pm • Saturday, Oct. 27
InterPlayce
InterPlayce, 2273 Telegraph Avenue, Oakland, CA 94612
Online listing for this event...
RSVP online so we'll have plenty of food...
Contact the InterPlay office for more info.