Connection!
International Week of InterPlay 2020
Sat, Oct 10 – Sun, Oct 18, 2020


Free parties, performances, classes, and events in locations all over the place!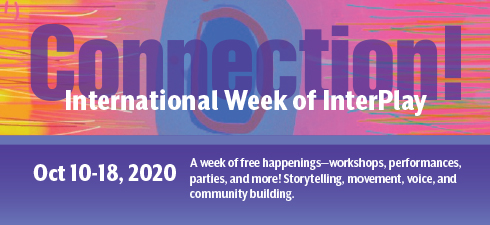 Celebration, connection, and fundraising on behalf of InterPlay
Free classes and events will be offered over the course of more than a week originating from all over the place! Come and play! Hear the exciting story of InterPlay and consider joining the Giving Wings Society to help provide long-term support for the movement!
We will lift up the amazing ways that InterPlay is embodying life, creativity, community, awareness and hope all over the world. The highlight will be the Giving Wings Party on Sunday, October 18.
Free classes & events originating from all over the world!

Register to get full details, dates, times, and zoom links for the whole week of events! FREE!
Shabbat Dance Chapel of the Heart Bilha Birman-Rivlin

Play in the Face of Uncertainty Susanna Pain

Second Saturday with InterPlay Atlanta Atlanta InterPlay Leaders & Leaders In Training

PoP Upz (Power of Play Upliftment on Zoom) Carolyn Renee & Christine Gautreaux

BIG BODY STORIES: Inviting Your Whole Self to Arrive Lisa Ward & Judith Valerie

Soft-Body Slam Stan Stewart

Wondrous Witnessing: Digital Party and Performance Will Pettway and Agnotti

Campbell's Ceilidh Mairi Campbell

Dance Jam II Liz Lescault and Mike Perz

InterPlayful Dance Chapel Cynthia Winton-Henry

Radical Self & Community Care Sheila K. Collins, P.hD. & Christine Gautreaux, MSW

SpiritPlay facilitated by Betsey Beckman

Interfaith Dance Chapel Rehana Tejpar
Playing with Chants—a Chance to Uplift! Trish Watts

Embodiment Conference Workshop on Dance: Ancient Medicine of the Body Politic Cynthia Winton-Henry

Storytelling & Exformation Phil Porter

Interfaith Dance Chapel Ruth Schowalter & Canan Arikan

Interfaith Dance Chapel Nancy Zoelzer Pfaltzgraf

God, Sex, and Power: 1992 Wing It! Performance Watch Party Cynthia Winton-Henry, Phil Porter, Amar Khalsa and Wing It! members

Interfaith Dance Chapel Coke Tani

Playing with Two Wings—Grief and Gratitude Trish Watts & Tony Hole

Playing with the Acapella App Jonathan Leavy

InterPlay Community Performance / WING IT! Performance Phil Porter

Global SIS Celebrates International Week of InterPlay Canan Arikan & Ruth Schowalter

Video Dances On Behalf Of and Embodied Ritual Leah Mann

Flying with Your Imagination Sukhmani Kohli and Vibhuti Aggarwal

PRE-PARTY to GIVING WING PARTY Phil Porter & Cynthia Winton-Henry

GIVING WINGS PARTY Phil Porter, Cynthia Winton-Henry & others!

Centered in Our Hearts Donna Mazzola, Ruth Garwood, Joan Greenwood

Spirit Play Jennifer Denning & Deb Heirs

Sacramento / Davis InterPlay 30th Anniversary Celebration! Bobbie Bolden, Lucy Bunch & Katie Hymans

Letting the Body Reflect Our Stories Sophia van Ruth, from the Netherlands and Australia

SpiritPlay for Everyone: Creative Play & BodySpirit Renewal North Carolina Triangle leaders

Weekly Women's Gathering Annie Goglia and Susan Main