Hope & Possibilities!
International Day of InterPlay
Saturday, October 27, 2018


Parties and events in locations across the country.
A world-wide celebration of the wisdom of the body!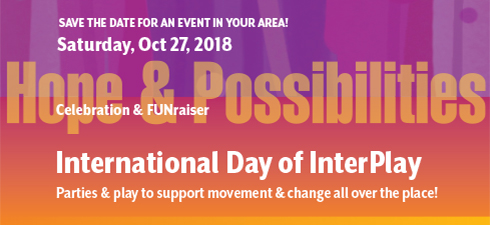 A celebration and fundraiser on behalf of InterPlay
Events will be happening this year all over the place! Check with your regional leaders to see what might be going on in your neighborhood
On Saturday, October 27, 2018, InterPlayers around the world will gather in local groups to celebrate the way that InterPlay is offering hope and possibilities in a world that sorely needs it!
We will lift up the amazing ways that InterPlay is embodying life, creativity, community, awareness and hope all over the place—across the US and in other parts of the world. We will honor wonderful leaders both in and around InterPlay communities with "Spirit of InterPlay" awards, hear inspiring stories, invite everyone to contribute and, of course, eat, drink and play. Each location will be celebrating in their own unique way, with food, play, connection, fun and a sneak peak at the new InterPlay video.
Join in the 30-Day InterPlay Challenge!!
We will be counting down the days to International Day of InterPlay on October 27! Join us on social media posting interplayful videos and photos each day. Sign up to get a daily InterPlay prompt (agnotti@interplay.org), we'll all do it together! September 27-October 27.
For those on social media, join the many InterPlayers posting their daily artful practice. Use the hashtags #30daysofinterplay #interplayful #internationaldayofinterplay #interplay on Facebook or Instagram to join in or check it out!
This delicious InterPlay Challenge is co-created by a group of Art & Social Change Millennial InterPlay alumni. Annie-Rose London is the amazing lead behind this challenge. Check out her videos on instagram @a.ro.lo .
Events happening all over!
Watch as events are added here.
Oakland, CA
Playing, celebration and free food.
10 am to 2 pm • Saturday, Oct. 27
InterPlayce
InterPlayce, 2273 Telegraph Avenue, Oakland, CA 94612
Online listing for this event...
RSVP online so we'll have plenty of food...
Contact the InterPlay office for more info.
Chicago, IL
12–3 pm • Saturday, Oct. 27
Agnotti's apartment
Polaroid, Costumes, InterPlay and Vegan food
Contact agnotti@interplay.org for details.
Edinburgh, Scotland
Led by Mairi Campbell
10:30 am – 12:30 pm • Saturday, Oct. 27
Holyrood Abbey Church, London Road, Edinburgh
Sydney Australia
Led by Trish Watts
10 am–3 pm • Saturday, Oct. 27
Annandale Creative Arts Centre, 81 Johnston Street
Seattle, Washington
El Dia De Los Muertos International Day of InterPlay Celebration
10 am – 2 pm • Saturday, Oct. 27
1316 3rd Ave W, Seattle, Washington 98119
Kansas City, MO
El Dia De Los Muertos International Day of InterPlay Celebration
7:30–9:30 pm • Friday, Oct. 26
The Laya Center, 601 Walnut Street, Kansas City, MO 64106
Contact Beth Sarver for details.
Atlanta, GA
11:30 am – 1 pm • Saturday, Oct. 27
St. Luke's Episcopal Church
435 Peachtree St, Atlanta, Georgia 30308
Raleigh, NC
11 am – 1 pm • Saturday, Oct. 27
The home of Jeff & Joyce Davis
315 Yadkin Dr, Raleigh, NC 27609

Register here...
Phone 919-322-8443 / Email info@interplaync.org
Come join us for the Triangle Day of InterPlay House Party Celebration and Fundraiser! Eat, Play, Celebrate, Repeat! The InterPlay House Party Fundraiser will offer an opportunity to meet, mingle and play with other InterPlayers from across the Triangle area, a celebration of the recipient of our local Spirit of InterPlay award, and the premiere of a new InterPlay video. And delicious courses of food in-between!
Mumbai, India
6–7:30 pm • Thursday, Oct. 25
Ravindra Natya Mandir (Karnataki Hall 2nd Floor)near Siddhivinayak Mandir Dadar West
RSVP to Hazel 9820055647 / Neesha 9833865076 or interplayindia@gmail.com
Twin Cities, MN
10:30 am – 1 pm • Saturday, Oct. 27
Hannah's Party Room
7508 Cahill Road, Edina, MN 55439
Follow the signs to the office and phone into the party room 612-388-1993
Pittsburgh
3–5 pm • Saturday, Oct. 27
East Liberty Carnegie Library