Belonging: Home is where you are heard!
International Week of InterPlay 2022
Sat, Oct 22 – Sun, Oct 30, 2022



Free FUNdraiser of events, workshops, performances and more!.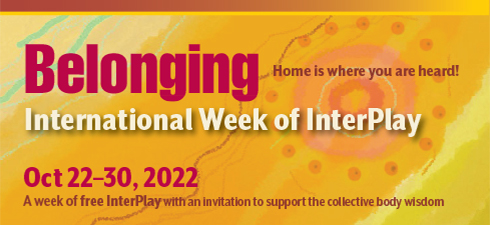 Register for International Week of InterPlay! Get all the updates about what will be going on during this extended week of fun.
Make a contribution to sustain community joy through a sense of belonging...
International Week of InterPlay is an amazing opportunity for those curious about InterPlay to come experience the magic, it is also for the short/long-time InterPlayers to experience the incredible leadership. Come and join this free FUNdraiser where we will be sharing about the Giving Wings Circle, people who incrementally contribute to transforming the world through play, joy, ease, and connection. Giving Wings members who are major sustainers of this amazing transformational practice, make a 5-year pledge with a monthly contribution of $25, $40, $100, etc.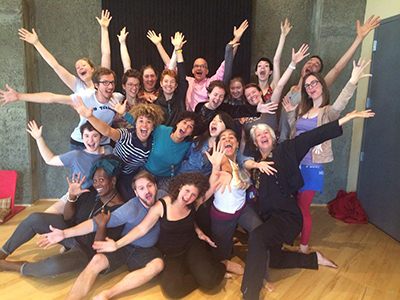 The week will culminate in an International Performance co-directed by Agnotti and Carolyn Renée with technical direction by Ade Anifowose. Come to enjoy stories and hear about InterPlay's incredible impact on the world and the lives of many. Register for a zoom link and more info! Save the Date: October 30, 2022 at 2 pm PT / 3 pm MT / 4 pm CT / 5 pm ET
International Week Offerings—More to come!
Playing with Words with Terence McCarthy
We Can Have It All & Leave the Rest with Spruce Krause
Vitamin InterPlay with Lucy Young, Sharie Bowman & other Leaders
Radical Self & Community Care with Sheila K. Collins
Naples InterPlay with Olaf Elander & Jeff Breting
Womb Revelations "Reclaiming Your Sacred Vessel of Creation" with Devi Wetterer & Christine Gautreaux
Thursday Dance Chapel with Nancy Zoelzer Pfaltzgraf
The DOBO—Dancing on Behalf of with Cynthia Winton-Henry
Wisdom, Sensitivity, and the Prime Directive: An Introduction to the Art of Ensoulment with Cynthia Winton-Henry
Dancing Hand: Where Movement and Art Meet the Playground of the Heart with Ruth Schowalter
October InterPlay Online Global Sustaining Sisters (SIS) with Canan Arikan & Ruth Schowalter
Big Body Stories Livestreamed with Randy Newswanger & Phil Porter
Storytelling & Exformation with Phil Porter
InterPlay as a Social Technology: the Fun and the Facts with Kate Amoss and Sharie Bowman
We Are Not Alone with Donna Mazzola, Eef Kolkman, & Ruth Garwood
Playing with Falling with CC King
Queer InterPlay with Randy Newswanger & Agnotti
Playing with Friends Beyond Borders with Hazel Lobo & Trish Watts
Knowing, Not Knowing, and the Gifts of Curiosity with Ade Anifowose & Jennifer Denning
Poetry in Motion with Liz Lescault and Mike Perz
Community Vocal Play with Janet Jones